Although the 62nd American Society of Hematology meetings did not officially kick off until this morning, I had the opportunity to attend three of the pre-ASH Symposiums held yesterday. This is one advantage of the virtual platform that I appreciate. Each of the symposiums offered informative panel discussions with some of the best myeloma doctors from around the globe.
My day kicked off with tuning in to part one of a four-part webinar series moderated by Dr. Neil Love entitled "Consensus or Controversy? Investigators Discuss Clinical Practice Patterns and Available Research Data Guiding the Management of Hematologic Cancers." Topics discussed were:
Optimizing induction therapy for patients with newly diagnosed multiple myeloma (MM)
Prolonging benefit with effective consolidation and maintenance regimens
Selection and sequencing of available therapies for patients with relapsed/refractory MM
Potential role of chimeric antigen receptor T-cell therapy in patients with MM
Other novel strategies with the potential to improve outcomes in MM
Drs. Rafael Fonseca, Ola Landgren, Nikhil C Munshi, Robert Z. Orlowski, and Edward A. Stadtmauer, each presented on the above topics. In addition, Drs. Sagar Lonial, S. Vincent Rajkumar, and Paul G Richardson, were survey participants.
I particularly enjoyed Dr. Landgren's presentation on the various novel strategies in myeloma. He discussed melflufen, a first-in-class peptide drug conjugate (PDC) that targets specific cells and rapidly releases alkylating agents inside the tumor cells. The myeloma cells quickly take up the melflufen and releases the toxic payload into the myeloma cell, killing it. He referenced the OCEAN randomized, global, phase III study. This study evaluates the efficacy and safety of melflufen plus dexamethasone versus pomalidomide plus dexamethasone in the HORIZON single-arm study. I am very interested in learning more about teclistamab, an active T cell-redirecting bi-specific antibody against BCMA that Dr. Landgren also discussed.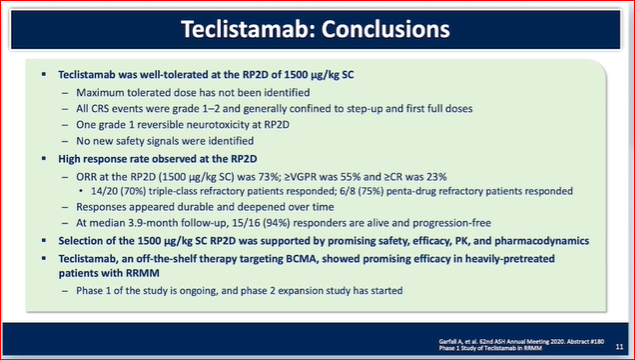 This year's International Myeloma Foundation Symposium entitled "Accelerating Toward Curing Myeloma: New Data, New Agents, and Evolving Treatment Paradigm" featured the following topics:
The panel, led by Dr. Brian G.M. Durie included Drs. Shaji Kumar, Phillippe Moreau, Jesús F. San-Miguel, Tom G. Martin, and S. Vincent Rajkumar.
I was glad to see Dr. Jesús F. San-Miguel present data on how Biochemical Relapse should be treated. He addressed whether a second stem cell transplant should be performed at relapse. Future key paradigms for treatment at diagnosis, frontline treatment, at first relapse, at second relapse, and beyond were presented. Even with uncertainty of a myeloma diagnosis, we can place a great deal of hope in the fact that there are many novel therapies that will be available when relapse occurs.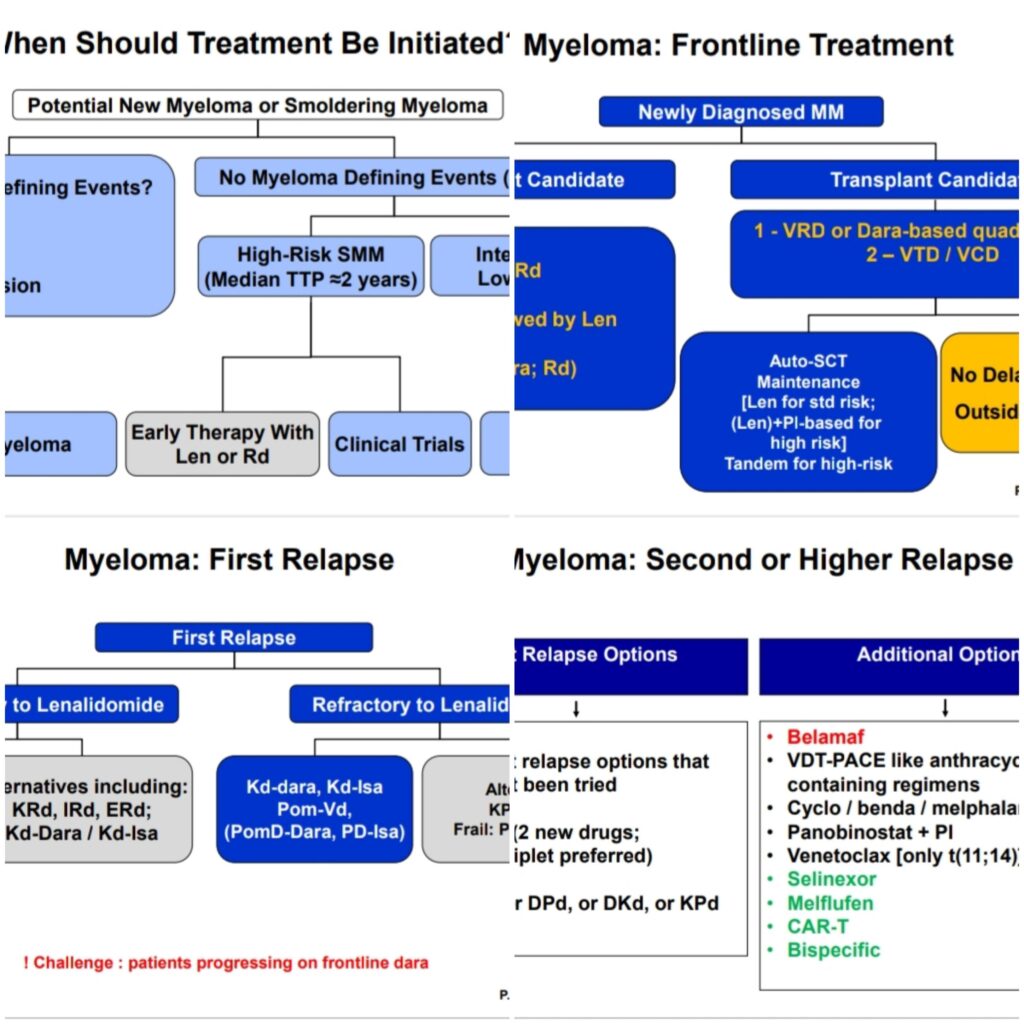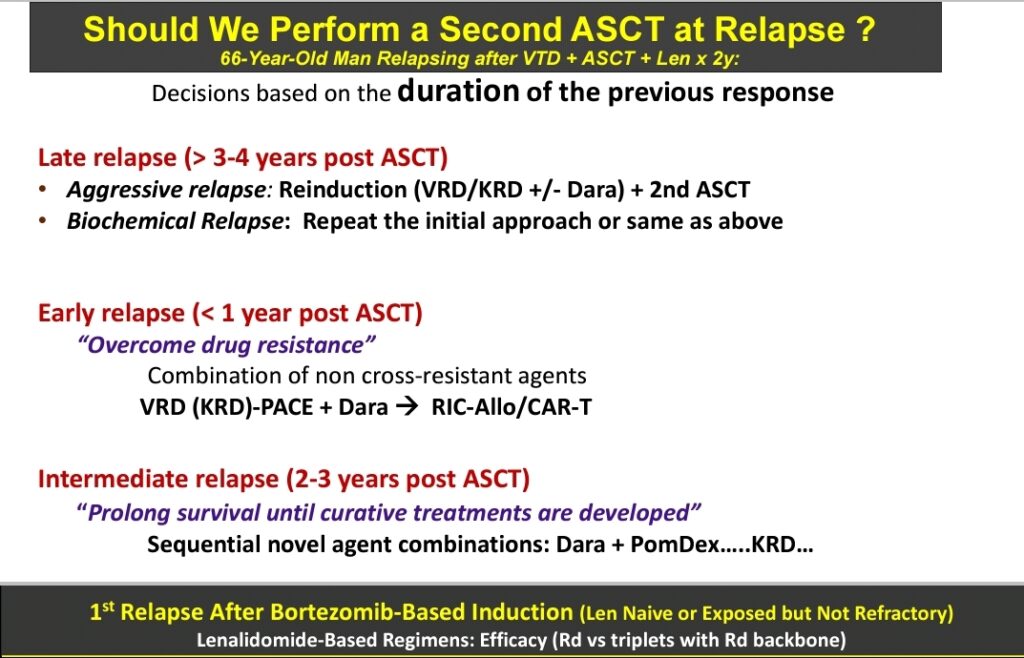 A late-night interactive webinar Symposium moderated by Dr. Maria-Victora Mateos entitled "State of the Art Care in Relapsed Refractory Multiple Myeloma" continued the focus of treating relapsed refractory myeloma. The panel included Drs. Ajai Chari, Irene Ghobrial, and Enrique Ocio. The topics of this webinar were:
Understanding Relapsed/Refractory Multiple Myeloma: Clinical Presentation and Unmet Needs
A Look at the Current Treatment Landscape of RRMM
Novel Treatment Strategies For RRMM, Ongoing Clinical Trials, and Future Perspectives
Now on to day two: I'm sure the abstracts on today's calendar will hold even greater insights to the latest updates in myeloma