Our world has certainly changed in 2020. Not just our myeloma world, but the entire world has been affected by the SARS-CoV2 pandemic. There is good news for both challenges. 
There were 688 myeloma abstracts at ASH 2020 (179 orals / 500 posters / 9 publications). While this was less than in years past, it is still much much more than when I started attending ASH over a dozen years ago.  I'll go into some specifics below that resonated with me.
The vaccine for the coronavirus is en route to people all over the United States right now. According to Dr. Fauci during his Fireside Chat at ASH, the question is not if you should get the vaccine, but when. I've checked with my myeloma specialist, and he said that because I have a compromised immune system, I may not have as robust a response to the vaccine, but some degree of immunity is better than no degree of immunity. In one of Dr. Durie's recent blogs, he provided a link to the New York Times and this handy tool for gauging where you stand in the line to receive the vaccine, based on your age, health, occupation, and location. 
Smoldering Patients:
The trials continue to provide updates on if, when and how to treat patients with smoldering myeloma. Research is very active in smoldering myeloma.  Now, in addition to the 2/20/20 criteria:
M-protein (>2 g/dL)
BMPCs infiltration (>20%)
Ratio of involved versus uninvolved sFLC (>20)
Dr. Bruno Paiva (University of Pamplona — Pamplona, Spain) presented data on a non-invasive way to monitor smoldering myeloma: the iMMunocell study. Basically, this non-invasive technique could potentially complement the 2/20/20 criteria. ASH 2020: Abstract 57 
This year's ASH expanded on immunotherapies. More of everything  CAR-Ts, Antibody Drug Conjugates (ADC's) and the biggest: more BiTEs (Bi-specific T-cell Engagers). Other interesting early trials are the new targets besides BCMA:  GPRC5D and FcRH5. Right now, it's very early, but just knowing that there are new targets being investigated demonstrates potential for new treatments.
Outcomes from the CARTITUDE-1 Study Assessing CAR T-Cell Therapy in Relapsed Refractory Multiple Myeloma.  CARTITUDE-1 was JNJ4528, which now has a name, ciltacabtagene autoleucel or cilta-cel.It's a structurally distinct second-generation chimeric antigen receptor (CAR) T-cell therapy with two BCMA-binding domains. ASH 2020: Abstract 177
Cilta-cel had a manageable safety profile, with 95% of patients having grade 1 and 2 cytokine release syndrome (CRS), which is a very known complication of CAR T cell therapy. Another complication is neurotoxicity (about 21%). While both of these sound scary, they are known side effects and if you are going to a myeloma specialist/center, they are prepared to handle these.  Click HERE for the video with Dr. Deepu Madduri (Mount Sinai Hospital — New York).
Abstract 131 (Ide-cel, bb2121) is another BCMA directed CAR T-cell therapy. We've been following this one since my wife, Robin and I spoke with the researchers in Cambridge at BlueBird Bio. The results are looking good, and Ide-cel is also being explored in ongoing clinical trials (KarMMA-2, -3 and -4)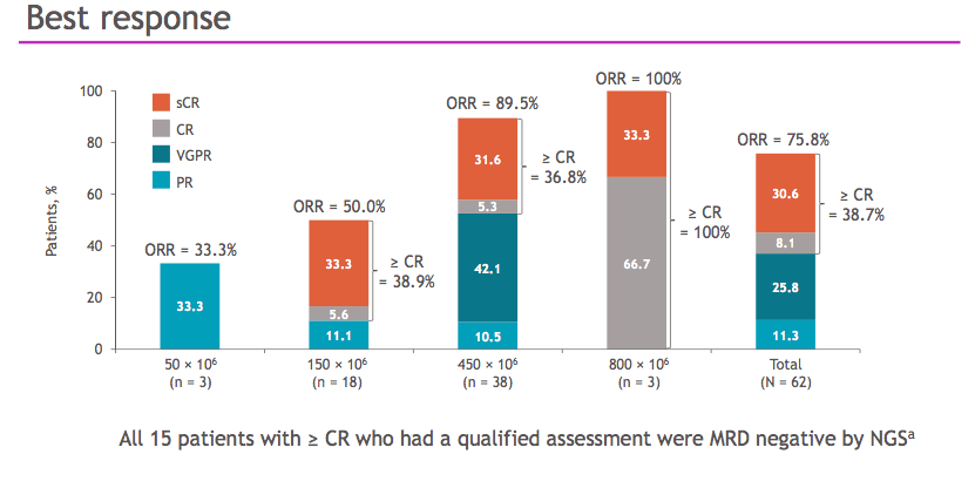 Here's a chart that I found helpful to keep track of BCMA therapeutics (this is from the IMF's IMWG Conference Series, which you can replay HERE.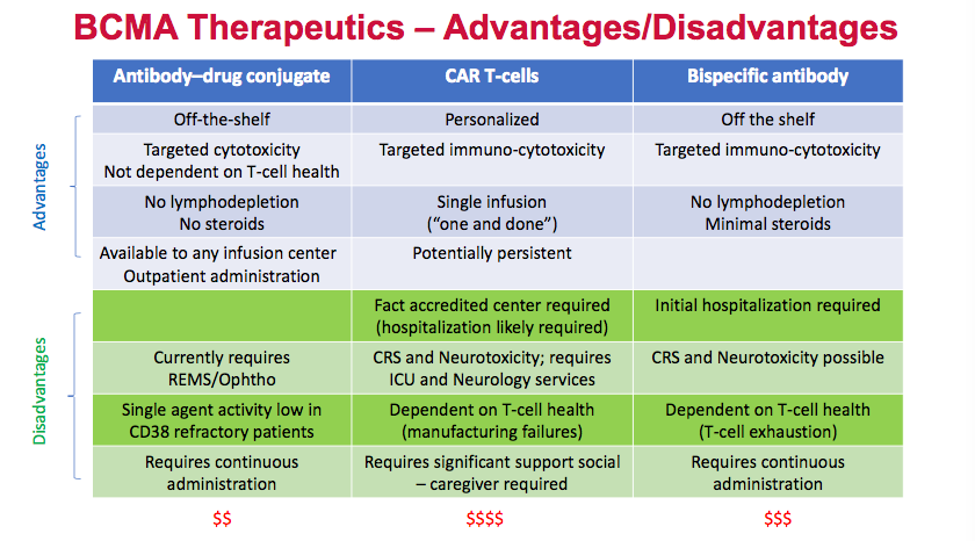 I wonder how successful these trials for relapse/refractory patients will be for frontline setting. When patients are stronger and have had less toxicity/exposure to treatment? Maybe even like having a stem cell transplant, people will have CAR-T? One and Done!
Our friend, Jim Omel, commented during one of our ASH support group leader meetings that: "It's a blending of art and science with all these complex intricacies and why we need to go to myeloma specialists."
So as I wrap up my last blog of #ASH20, "The Times They Are a-Changin'":  virtual ASH, virtual support group meetings, virtual patient & family seminars and workshops. When this pandemic is over, it will be nice to see everyone in person, but until then, I wish you good health and Happy Holidays! 
This blog wraps up with the song from 1964:
Bob Dylan's classic "The Times They Are a-Changin'"