Wow, what a very interesting experience at the All-Virtual 62nd ASH Annual Meeting and Exposition (ASH).  The total number of ASH abstracts for 2020 was 4800, down from last year's 6000.  There were 688 Myeloma Abstracts.  179 of them were oral abstracts, which are presented in 15-minute time slots.  There were 500 poster abstracts, which had a 5-minute pre-recorded summary of their findings.  That is a lot of information to absorb and understand when you are not a medical professional.  Brian G.M. Durie, MD, Chairman of the Board of the International Myeloma Foundation (IMF) recommended oral and poster abstracts that he thought were important for us to see. That helps to narrow things down a bit.  The advantage of the virtual format is that I can go back and re-watch abstracts. I can pause to look at a slide and take the time to understand the data. ASH is giving us an extension of time to have this information available. I am looking forward to studying this information over the next month and discussing this information with my support group in January.
At the IMF Symposium, held on Friday, December 4, S. Vincent Rajkumar, MD spoke about high-risk smoldering multiple myeloma (HRSMM). He stated that we should not wait to treat these patients until the myeloma becomes active. Treating them now, with Revlimid (lenalidomide) and dexamethasone, prevents end organ damage by 90%. 
When frontline therapy was discussed, the general conclusion was to treat with the best treatments up front. Using the best drugs as part of first-line therapy gives a deeper response, and better progression-free survival and overall survival. And, unfortunately, many patients will not receive second-line or third-line therapy because of death due to myeloma. Don't save the best for last. 
Combination therapies are still showing the best results. But there is a dizzying number of combinations that can be made with the current arsenal of anti-myeloma agents. This is another major reason that it is in a patient's best interest to seek the advice of a myeloma specialist.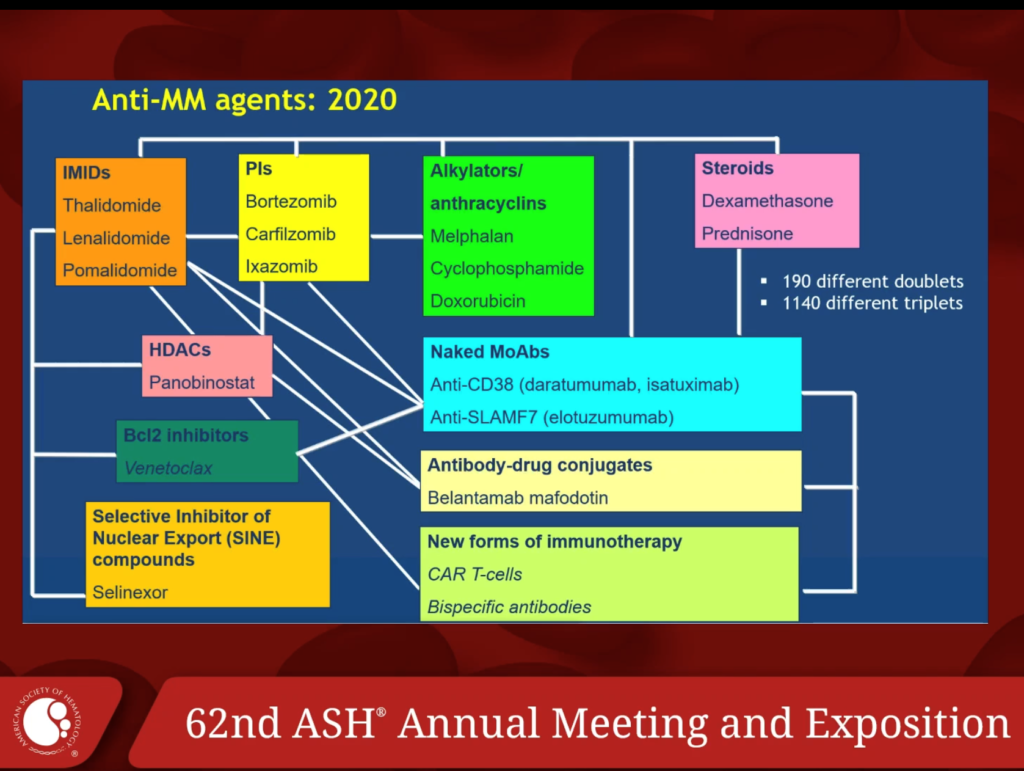 Another debated topic was maintenance therapy. How long is long enough?  Please read my fellow ASH social media teammate, Jim Omel's blog. He has an excellent article about maintenance therapy. https://ash2020blogs.myeloma.org/considerations-regarding-maintenance-therapy-in-myeloma/ 
I came away from this year's ASH even more excited than last year. As a relapsed patient, the options for second and third relapse are many.  This gives me such hope. This hope is not without its challenges. All treatments have side effects. And sometimes, it is not an easy road for us.  But the advances that are being made, enable many of us to live a longer life than what we thought at first diagnosis. I am grateful for these many new treatments. 
I am amazed at the job done by ASH to put on a multi-day conference, completely virtual. Sure, there were glitches from time to time  We have all been there this year. And we did not get to travel to lovely San Diego.  Google has a timeline that pops up periodically to show you where you have been during a period of time.  I can fondly look back and remember 2019, when I was a world traveler. Now, there are 2 or 3 dots on the maps, all within 15 miles of each other. I miss travel. Yet, ASH this year made me feel a little like I have traveled. I saw doctors from all over the world speaking from their homes and offices. A tiny glimpse of Canada, Spain, Amsterdam, Italy, and many more. 
Finally, I want to thank the IMF for allowing me the opportunity to attend ASH again. And I want to thank the pharmaceutical companies that support the IMF and the Support Group Leaders. Without their support, we would not be able to be a part of ASH. I hope we will be able to meet in person next year.  I really miss the togetherness of my fellow support group leaders. I wish all of you a better 2021 and success on your myeloma journey.