At last year's ASH meetings, I learned a tremendous amount about BiTES (bispecific T-cell engagers). I referenced it as getting my feet wet. This year I can say that I not only got my feet wet but was submerged waist deep in emerging Duo Body Bispecific antibodies (BsAbs). Bispecific antibodies, like CAR-T cell therapy are types of immunotherapy which help your own immune system fight myeloma. With two arms, bispecific antibodies or bispecific T-cell engagers target two separate antigens, one on the myeloma plasma cell and the other on the T-cell or killer cell. The bispecific antibody is designed to kill the myeloma plasma cell by bringing it close to the T-cell.
Teclistamab and Talquetamab are two duo body bispecific antibodies I got to know a little bit about at the meetings this year. These drugs serve to meet the unmet need of patients that have been heavily treated and relapsed on the most potent standard therapy. Teclistamab is a humanized IgG-4 antibody that redirects CD3 T-cell to BCMA myeloma plasma cell. Talquetamab is a first n-class duo body IgG-4 PAA antibody that binds to both GPRC5D and CD3.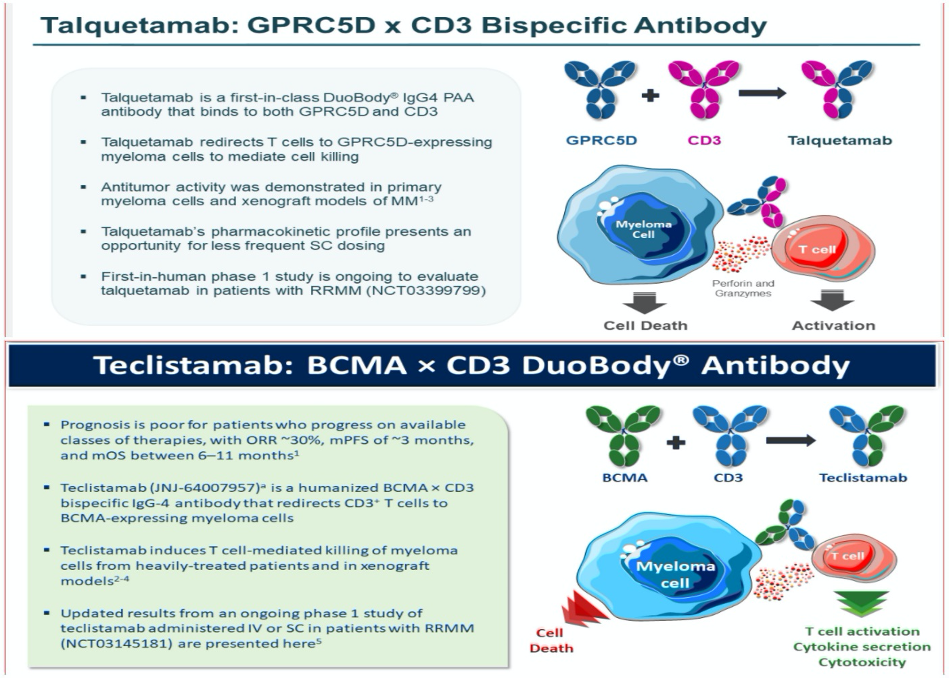 Dr. Alfred L. Garfall from Perelman School of Medicine, University of Pennsylvania presented an oral abstract titled "Updated Phase 1 Results of Teclistamab, a B-Cell Maturation Antigen (BCMA) x CD3 Bispecific Antibody, in Relapsed and/or Refractory Multiple Myeloma (RRMM)". The summary of the study shows the following:
In heavily pre-treated relapse/refractory myeloma patients, Teclistamab showed promising results
There was a high response rate observed at the recommended phase 2 dose
The recommended dosage was supported by promising safety and efficacy
The phase II expansion study has started.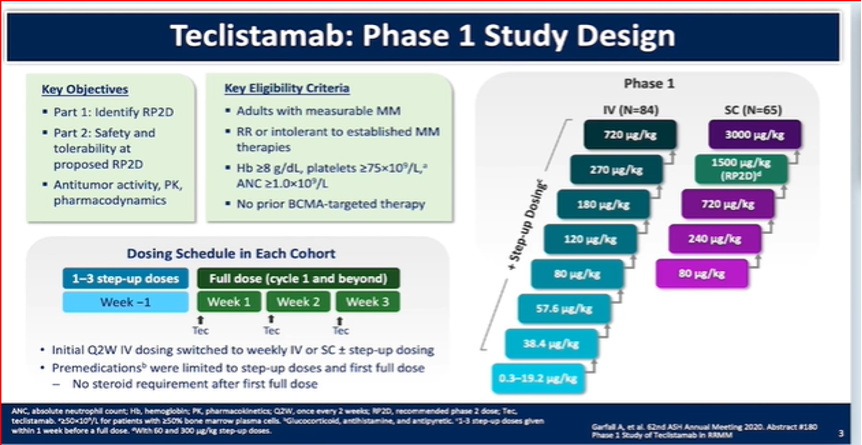 Unlike CAR-T cells the bispecific antibodies are referred to as "an off-the-shelf" approach to using your body's own immune system to treat myeloma. With CAR-T cell therapy the cells are removed from your blood and genetically modified to help them find the myeloma and then returned to you in a process like stem cell transplant. This can be a time-consuming process. Because there is no need to collect the patient's cell and perform gene therapy, receiving the bispecific antibodies is a shorter and often safer procedure. The risk of drug resistance and severe adverse effects are greatly reduced since the bispecific antibody can directly target immune cells to myeloma cells.
Dr. Ajai Chari presented abstract 290 entitled "A Phase 1, First-in-Human Study of Talquetamab, a G Protein-Coupled Receptor Family C Group 5 Member D (GPRC5D) x CD3 Bispecific Antibody, in Patients with Relapsed and/or Refractory Multiple Myeloma (RRMM)". It is very early on in the study, but some good results have been yielded. Overall response rate is 69%. Six of the nine triple class refractory patients showed response. The two Penta refractory patients showed response as well. The median to response was one month. I look forward to learning more about Talquetamab and another bispecific antibody, RGN5458 that was part of abstract 291 presented by Dr. Deepu Madduri from Mount Sinai Medical Center.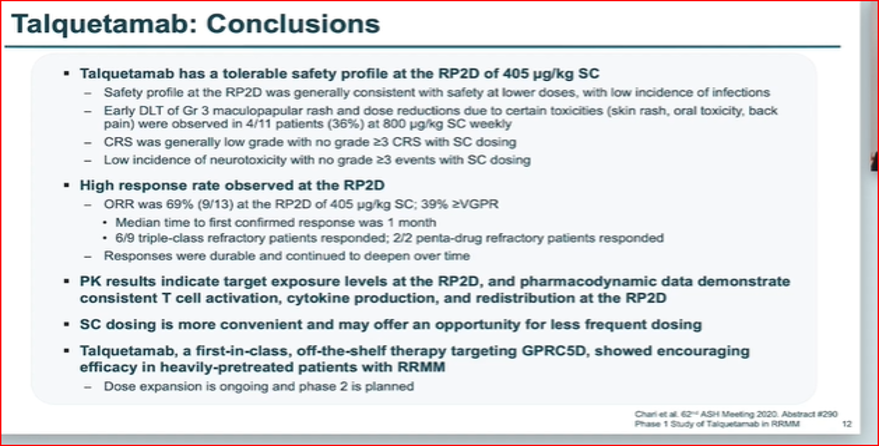 Valarie Traynham, Aurora, IL Multiple Myeloma Networking Group