The life expectancy of standard-risk myeloma patients has increased significantly in the last decade, thanks to novel therapies. Some trials that are in progress, such as the MAIA trial comparing Revilmid and dexamethasone (Rd) versus Daratumumab, Revilmid and dexamethasone (DRd) have not yet met their progression-free survival (PFS) end state and are at more than 55 months (4.5 years) PFS with a median that has not yet been reached. For newly diagnosed patient, this is fantastic— given that there are more drugs in the pipeline as well.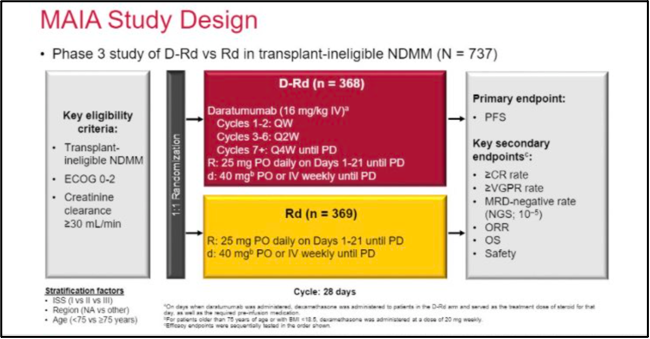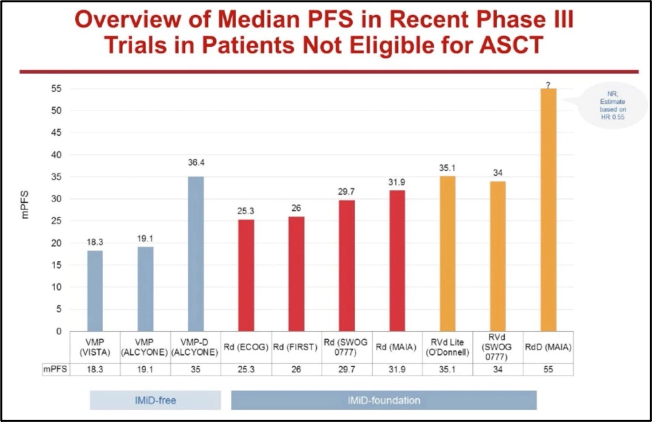 Amazing continuous improvement of PFS in non-transplant eligible myeloma.
But I can't help noticing this slide from Dr. Thomas Martin, showing the average overall survival (OS) for triple refractor myeloma patients is approximately nine months.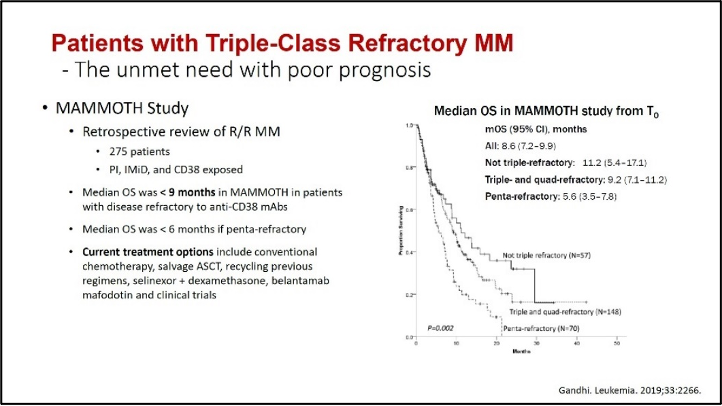 To me, this is an indication that early diagnosis of myeloma is important to minimize mutation. Also, extending PFS from initial induction treatment and preventing/delaying relapse is critical. More work is required to determine what is the most effective / decisive initial therapy from available drugs (and come up with new ones), to sequence treatments to achieve the maximum combined outcome, and to design progressively better drugs to eradicate myeloma from the body or to empower the body to eradicate myeloma itself.
This list of recently approved drugs and soon to be approved, hopefully in 2021 and 2022, provide more options and bring high hope to improve myeloma treatment outcomes. Once again, new drugs are revolutionizing the treatment outcomes for myeloma patients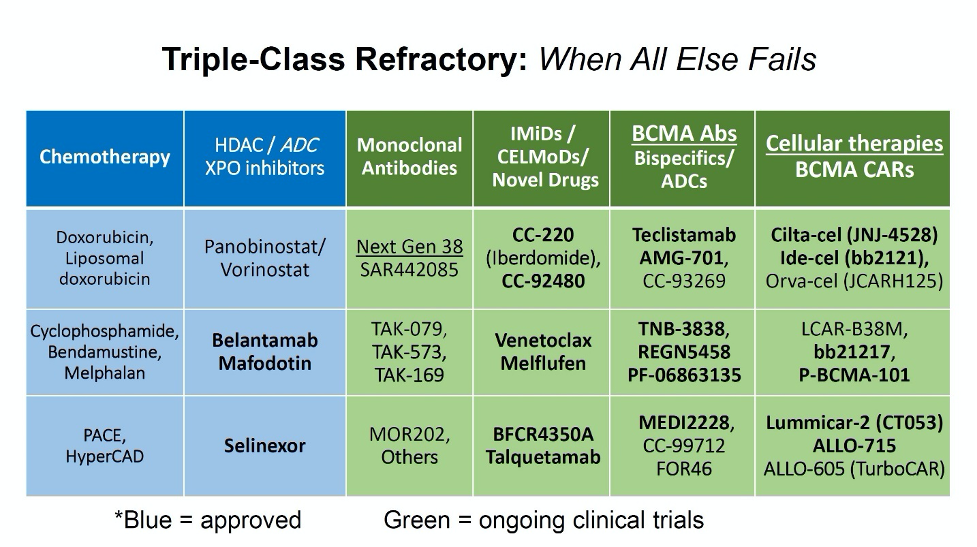 There were several discussions regarding maintenance, and specifically asking, "Does everyone need post induction maintenance and for how long?"
In her experience, Dr. Suzanne Lentzsch from Columbia University indicated that PFS data of patients with standard-risk cytogenetics, negative PET-CT, and minimal residual disease 10E-6 for a consecutive of three years are excellent. Dr. Lentzsch answered YES: everyone needs maintenance therapy but NOT everyone needs maintenance therapy forever. There are several trials in progress to incorporate MRD-guided decision to determine when one can stop maintenance therapy.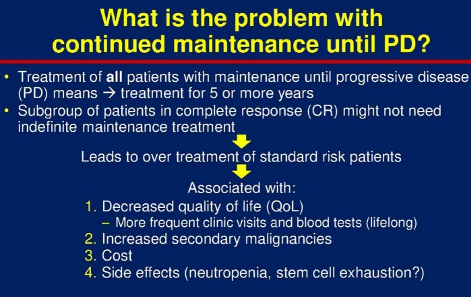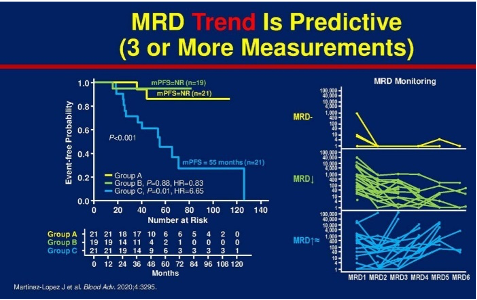 The current result of the IFM009 study comparing early versus late transplant in myeloma patients will be presented this weekend. Yet, it was also important to note that Dr. Paul Richardson presented data that indicates significant Quality of Life (QOL). This QOL is deep for myeloma patients that undergo stem cell transplant.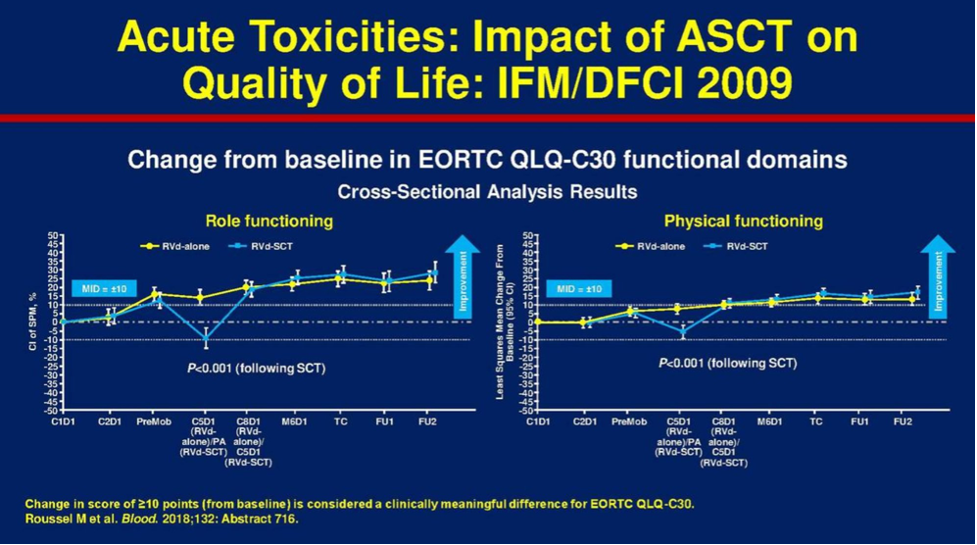 Several of the doctors mentioned the need to
To tailor treatment to the individual
To aspire to meet the patients need of quality of life
To ensure the need not to close the door for future treatments.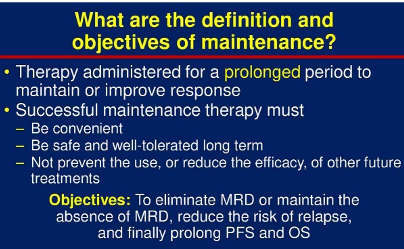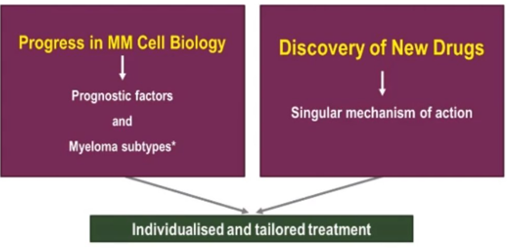 As a 25-year #myeloma survivor without a transplant, my motto has always been "Don't close the door on future treatment options," including even transplant. I was happy to see Dr. Keith Stewart and others discuss the subject in multiple meetings.
If I can summarize my personal treatment outcome preference, it would be this slide.
Maximize outcome from the use of drug(s), which results in an increase PFS and hopefully OS
Minimize adverse effects as much as possible, which results in reduced misery, money, and time
Don't close the door on future treatment options, which results in HOPE
One of the highlights of Friday was this slide…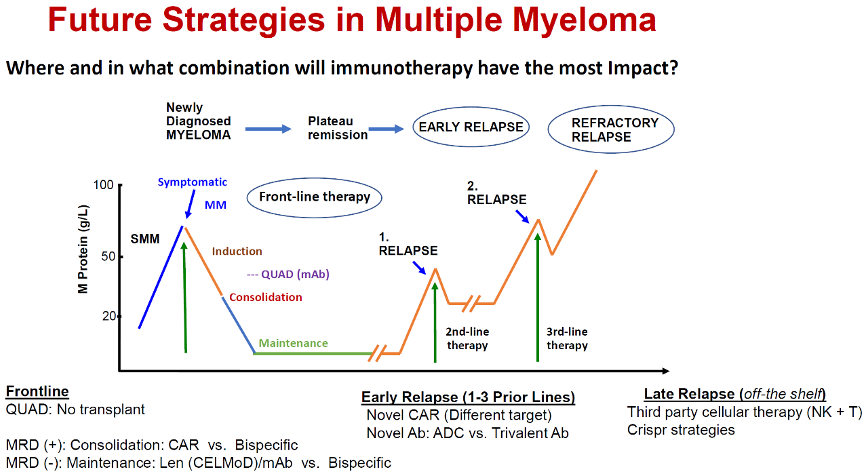 This slide outlines how the future of myeloma is yet to be made. Starting from possible 4 drug combinations with no transplant for some patients, the introduction of CAR-T and BCMA-based therapies earlier in treatment. The message we heard was in 2021: there will be multiple new drugs and cell-based therapies that will be approved. The outcome is yet to get better!
Sharing the Hope,
Yelak @northtexas