Attending the ASH IMF Satellite Symposium, "Accelerating Toward Curing Myeloma: New Data, New Agents, and Evolving Treatment Paradigm," on Friday afternoon reminded me once again why I enjoy attending ASH. Primarily because it gives me hope: Hope in knowing that the experts are working so hard to find the best treatment, hope in seeing the sheer numbers of providers and researchers who have dedicated their career to myeloma, but also hope for finding a cure.
The title of this symposium alone makes me smile. Combining myeloma and cure in the same sentence is so encouraging. Using case studies to lead the discussion, an expert panel addressed Early Treatment for High-Risk Smoldering MM: Going for a Cure?, Individualized Approaches to Frontline Treatment Selection, Managing the Patient With Relapsed Disease After ≥ 1 Lines of Therapy, and Understanding the Different Anti-BCMA Therapies. The expert panel included Brian G.M. Durie, MD; Shaji Kumar, MD; S. Vincent Rajkumar, MD; Philippe Moreau, MD; Thomas Martin, MD; and Jesus San-Miguel, MD. A few of my takeaways from those talks are shared below.
Early Treatment for High-Risk Smoldering Multiple Myeloma: Going for a Cure? The shift in care for smoldering multiple myeloma (SMM) is from watchful waiting to questioning why not treat. The expert consensus is that those who are high risk SMM should be started on treatment or enrolled in a clinical trial.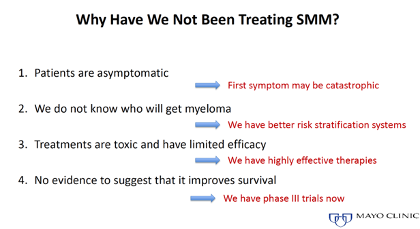 Individualized Approaches to Frontline Treatment Selection. As we all know, multiple myeloma is very individual and unique to each of us. We remind our support group members monthly as we talk about individual treatment and personal journeys. Hearing the experts share their approaches to care of patients, drives this message home. Given the same case study, experts have different approaches to care, again reminding us that one size does not fit all.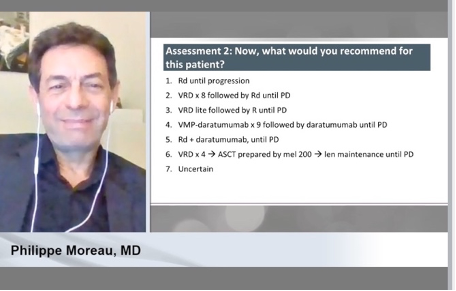 Managing the Patient with Relapsed Disease After ≥ 1 Lines of Therapy. According to the experts, patients with first relapse should be considered for salvage auto transplant if eligible. While the current prognosis for patients with triple refractory multiple myeloma is not great, treatment options are good and continue to improve. At any stage, finding the right choice of treatment at relapse should consider disease-related factors, patient-related factors, efficacy and toxicity of previous treatments, and quality of life.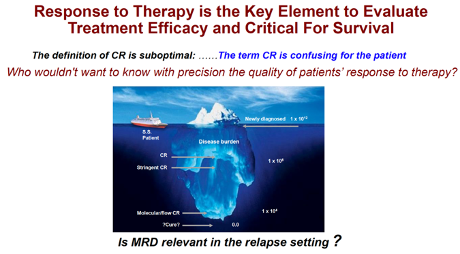 Should patients be treated with a second ASCT at relapse? The decision to treat biochemical relapse should be based on the duration of the previous response. I would have to agree with the image above. Complete response (CR) has always left me a little unsure of my personal disease state. Minimal residual disease (MRD) is what I hope for and leave no room for confusion. I am, however, still unsure of how a MRD-negative status will guide my treatment. There will be many new answers to questions presented this weekend at ASH20, as well as many new questions. Some of which we may never know the answer. The cure may not be in our lifetime, but I remain hopeful that the experts are asking the questions, researching for answers, and working for a cure.
Wishing you Hope,
Tiffany H. Williams @MyelomaHope