Today is Tuesday, December 8. I'm just finding some time to gather my thoughts from Monday's abstracts and meetings, and I'm impressed in reading all of the other #IMFASH20 leaders' blogs. Each perspective is unique and relevant. It's the patient's experience and mindset. I really hope you are reading all the leaders' blogs to get a broad view of virtual ASH 2020 to give you food for thought in the conversations you have with your own myeloma doctors.
My focus today will be on impressions from oral abstracts that resonated with me. Many years ago, Michael and I had the honor in meeting Dr. Jonathan Kaufman (Winship Cancer Institute, Emory University, Atlanta, GA). He struck us then as young, brilliant, and passionate myeloma specialist (one of many we are blessed to have in our myeloma world)  Dr. Kaufman presented this year at ASH on Abstract 549 "Daratumumab (DARA) Plus Lenalidomide, Bortezomib, and Dexamethasone (RVd) in Patients with Transplant-Eligible Newly Diagnosed Multiple Myeloma (NDMM):  Updated Analysis of Griffin after 12 Months of Maintenance Therapy"
The focus was on the maintenance phase. Remember this is for Newly Diagnosed Multiple Myeloma: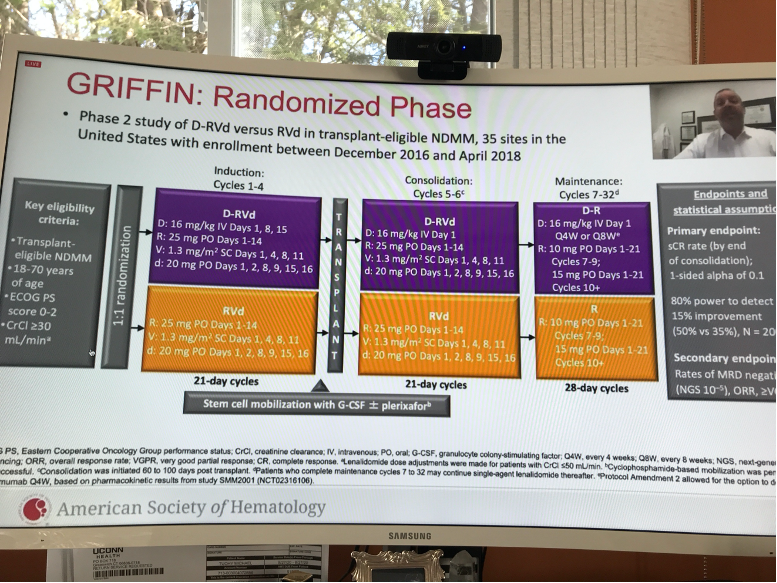 Interesting to me is the fact that there were less side effects (Adverse Events=AEs) and less patients discontinued treatment in the D-RVd arm than in RVd arm.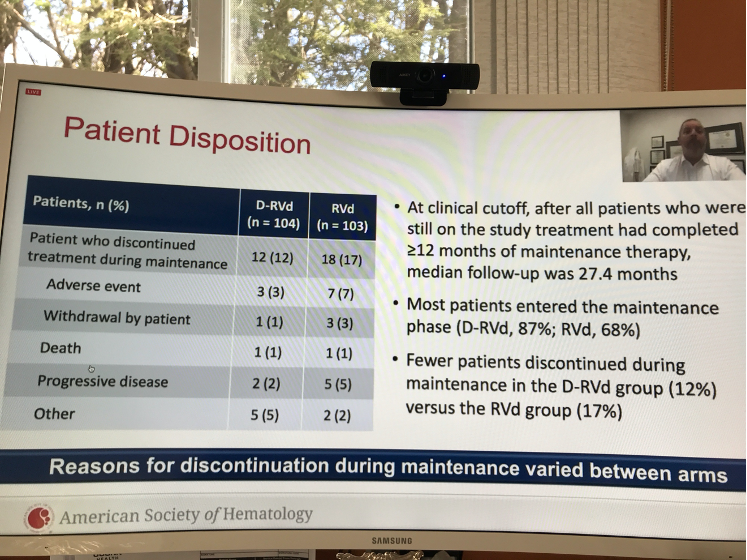 Also, Responses Rates and depths were greater for D-RVd  at all time points.  D-RVd improved MRD-negativity rates versus RVd. The conclusion slide is below for your reference.  he support group leaders had a good discussion on this quadruplet option, and we wonder in the real world, the impact this will have on NDMM patient treatment and of course cost. It's interesting to note that Dr. Kaufman stated in the Q&A that at Emory, D-RVd has become a new Standard of Care for NDMM.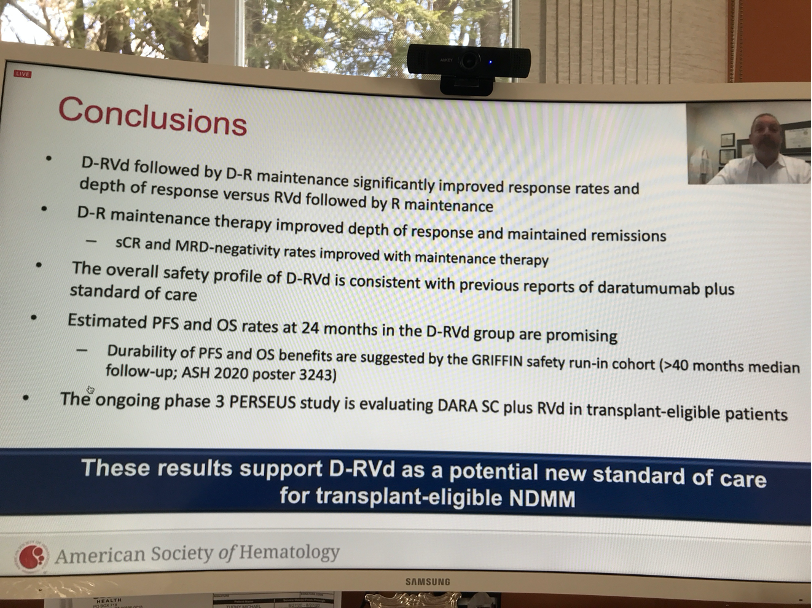 On Today's IMWG Conference Webinar, Dr. Joe Mikhael summed up a big question – about using quad treatments up front in NDMM:
"Saving the best for last may be good for a Hallmark Movie, but not for myeloma."
Talking about Dara – Sheri Baker, support group leader from Boise, Idaho, mentioned that in her group, she emphasizes that Dara is an immunotherapy, not chemotherapy. Those words make a difference in a patient's mind.
Another oral abstract on Monday that I found of interest:
Abstract 721 "Biallelic Loss of BCMA Triggers Resistance to Anti-BCMA CAR T Cell Therapy in Multiple Myeloma" by Mehmet K. Samur, PHd – Dana-Farber Cancer Institute, Harvard Medical School, Boston, MA
This is really complex and completely new.  From my layman's understanding, BCMA is a product on the 16th chromosome (16p). Deletion of 16p significantly co-occurs with deletion of 17p. So what then? We need different targets besides BCMA in cases where this may happen. There are new targets that were discussed at ASH and I encourage you to learn keep your ears open as we hear more about them. As Cindy Chmielewski, Support Group Leader, Philadelphia Multiple Myeloma Networking Group, said:
"New Targets = New Hope!" I agree Cindy!
I'll post one more blog summing up this year with a focus from the IMWG Conference Series.  Stay tuned and Stay Hopeful!  The best is yet to come…Here's to the Cure!
—Robin Touhy
On Twitter @IMFSupport