The antibodies are front and center during the 2020 American Society of Hematology's Annual Meeting.
I thought this would be a good time to review the mechanism of action (how they work) of each type of antibody.
The first antibodies to make it to the myeloma scene were the monoclonal antibodies. (mAbs) Monoclonal antibodies in myeloma include Darzalex (daratumumab), Empliciti (elotuzumab), and Sarclisa (isatuximab-irfc)
To understand how a monoclonal antibody works first you need to know what an antigen is. An antigen is a molecule that is able to generate antibodies in our immune system. Antibodies recognize and latch onto antigens in order to remove them from our body. Plasma cells have many surface antigens sometimes called surface markers. CD38 is a common antigen or "target" found on plasma cells. Both Darzalex and Sarclisa are monoclonal antibodies that are attracted to the target antigen CD38. They bind to CD38 on the plasma cell in order to remove it from our body. Empliciti is attracted to another antigen on the plasma cell known as SLAM-F 7 or CS1. Sometimes monoclonal antibodies are called "naked antibodies" because they work by themselves. You will understand more as you read on.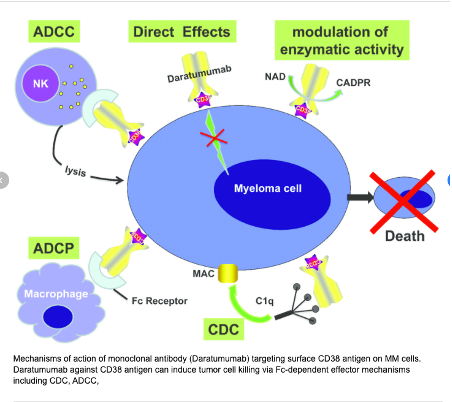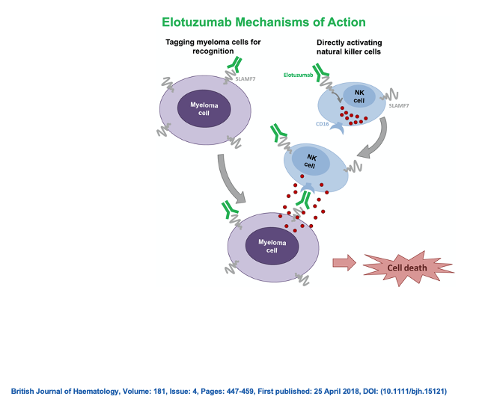 Antibody drug conjugates came on the myeloma scene next. Antibody -drug conjugates are also called ADCs. Antibody-drug conjugates combine monoclonal antibodies with highly potent anti-cancer agents linked via a chemical linker. Simply put ADCs are antibodies with toxic payloads attached to them. Once the ADC finds its targeted antigen on the tumor cell, it delivers its toxic payload. Belantamab Mafodotin (Blenrep) is the first ADC that has been FDA-approved for myeloma. Blenrep is made up of a monoclonal antibody directed at the antigen anti–B-cell maturation antigen (BCMA) on the plasma cell and the cytotoxic agent called auristatin F via a linker.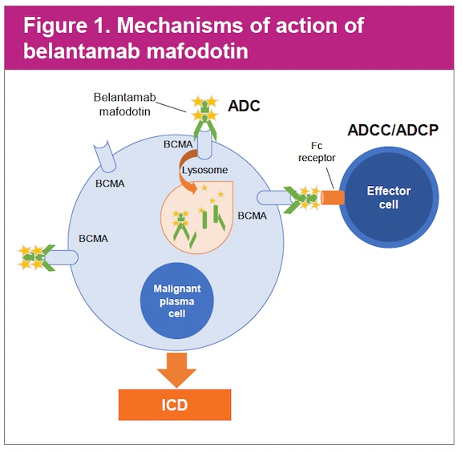 At this year's ASH meeting data was presented on a new ADC called MEDI2228. Check out my tweet to learn more about this new kid on the block. https://twitter.com/MyelomaTeacher/status/1335323688229609473?s=20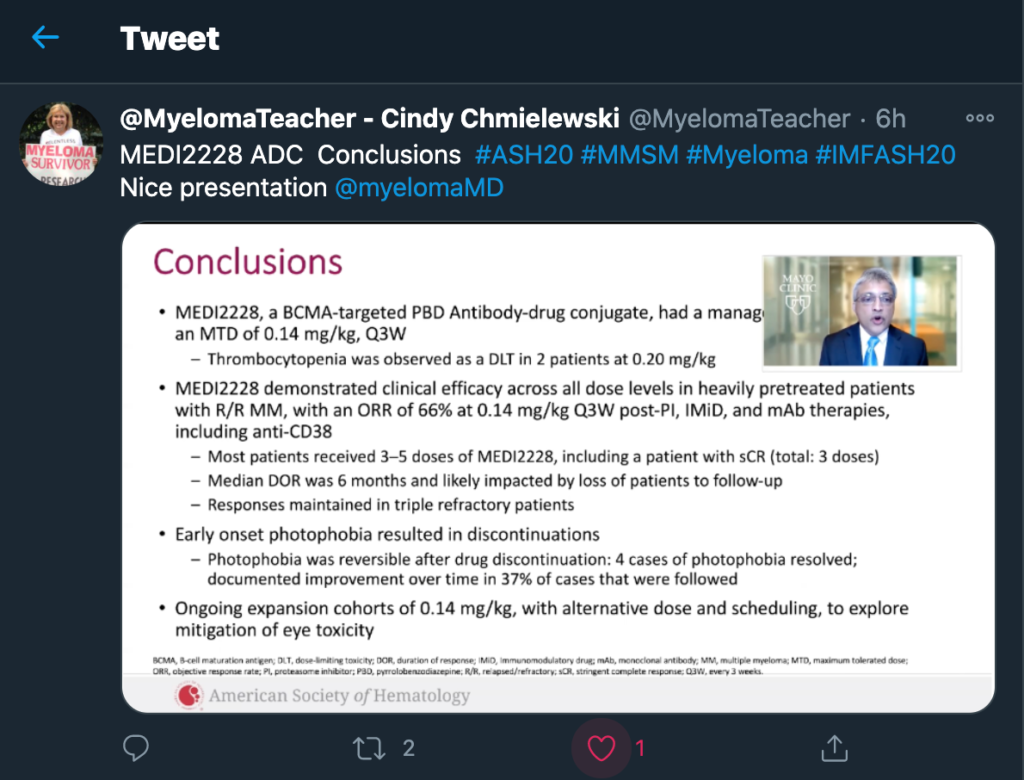 That brings us to another type of antibody known as the Bispecific Antibody. Bispecific Antibodies (BsAbs) are antibodies that can simultaneously bind two separate and unique antigens (or different epitopes of the same antigen). Currently, there are no FDA approved bispecific antibodies in myeloma. With that said, bispecific antibodies took centerstage at ASH this year. The bispecific antibodies in myeloma bind to a surface antigen on the myeloma plasma cell and they also bind to an antigen on a T-cells. T-cells are killer cells. Bispecific antibodies bring the T-cells to the myeloma cell so they can do their job.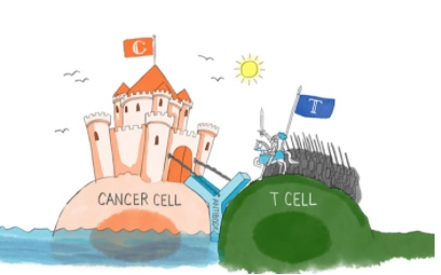 Many bispecific antibodies were discussed at this meeting. The bispecific antibody AMG-701 binds to the BCMA antigen on myeloma cell and the CD3 antigen on T-cell. AMG 701 is known as a BiTE. (Bispecific T-cell Engager) Another bispecific antibody presented at #ASH20 was teclistamab. Teclistamab is called a DuoBody and also binds to the BCMA antigen on a myeloma cell and CD3 antigen on a T-cell as does the bispecific antibodies REGN5458 and TNB-383B . Talquetamab, which binds to the antigen GPRC5D on myeloma cell and CD3 on T-cell, shows promising data too. Another bispecific antibody that shows potential is Cevostamab. Cevostamab binds to the antigen FcRH5 on myeloma cell and CD3 on the T-cell. It's nice to see that some new target antigens on the myeloma cell are being explored especially for individuals that have become resistant to other types of BCMA directed therapy.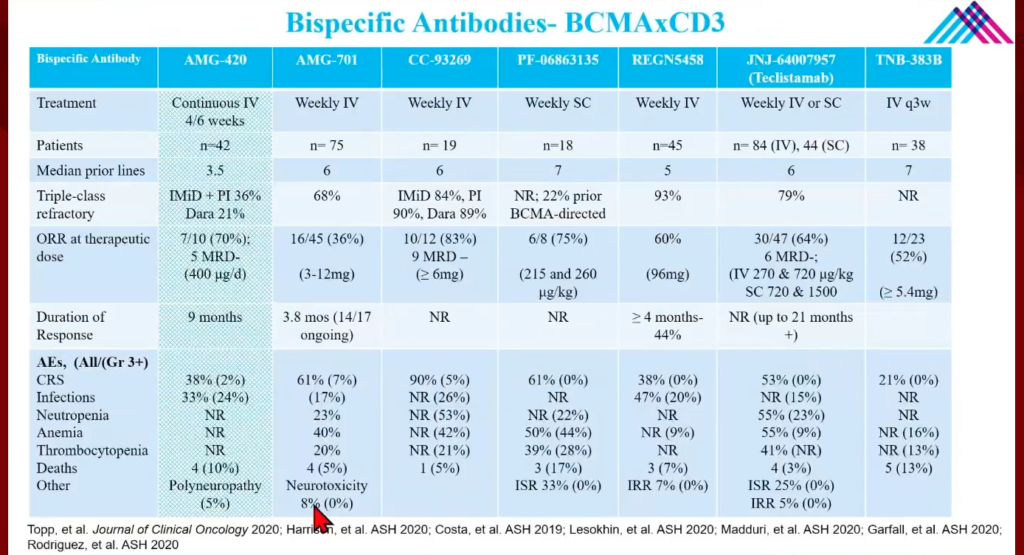 Follow my Tweets @MyelomaTeacher to learn the specifics on these antibodies and much more!
by Cindy Chmielewski @MyelomaTeacher