The International Myeloma Foundation Social Media team has been active even though this year's American Society of Hematology meeting is taking place virtually. Not only attending session virtually and engaging with researchers, clinicians, pharmaceutical representatives, and others; but also, coming together for virtual debriefs and virtual recharge. I miss seeing these myeloma friends in person, but I appreciate all the leg work that Robin Tuohy, IMF Senior Vice President, Support Groups, has done to keep us going virtually.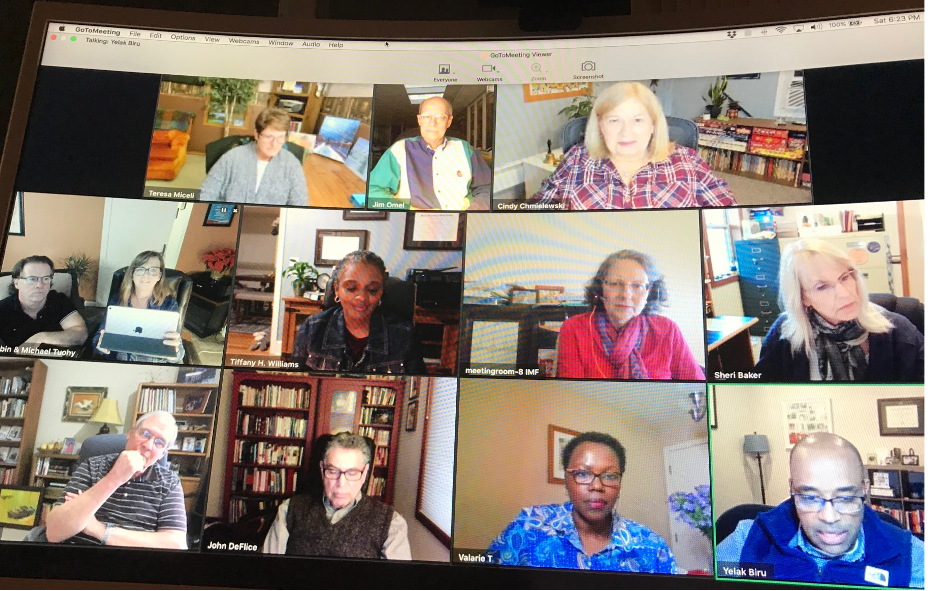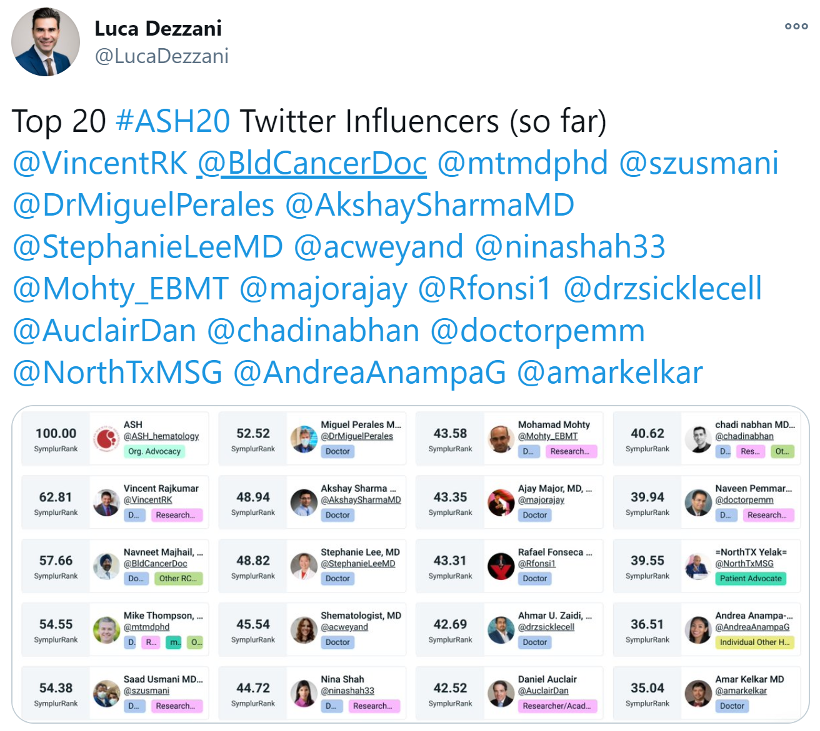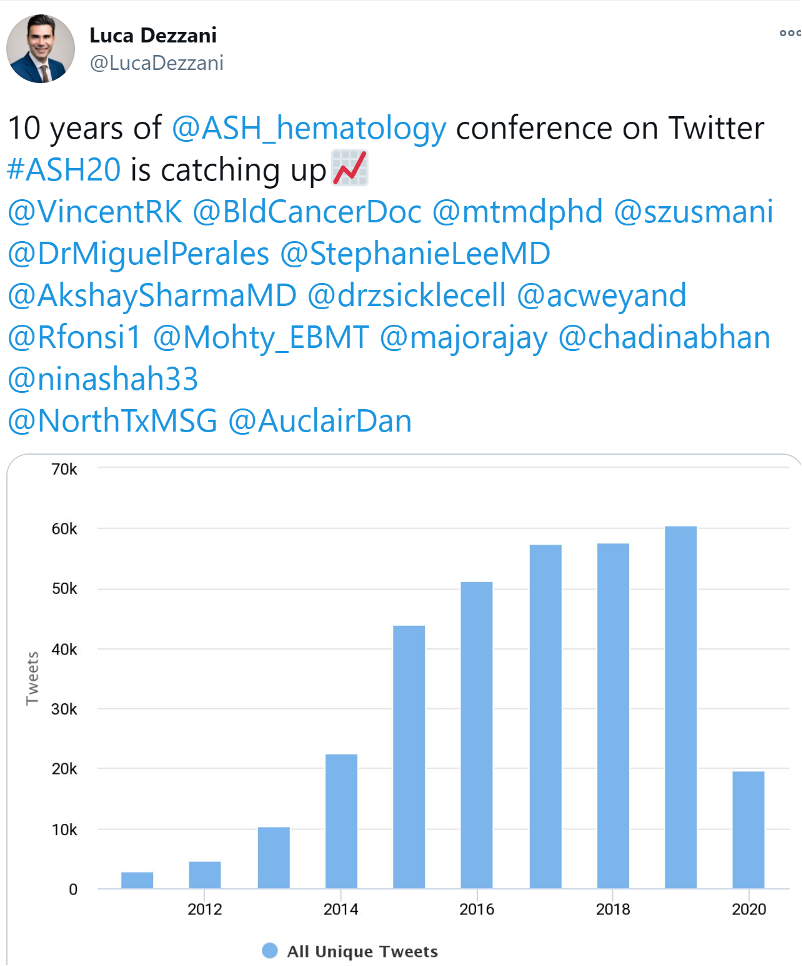 The tweets came from all over the U.S. and the world. But it looks as if there was a higher concentration of tweets from myeloma center cities in the U.S.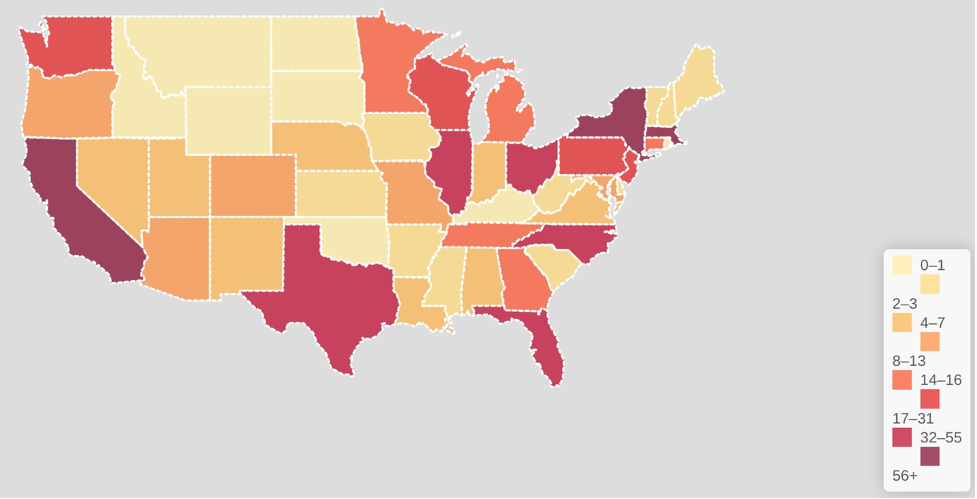 The tweets talked about myeloma, patients, Dr. Fauci's fireside chat, and many more topics— including the phrase "looking forward," hopefully to 2021 and beyond!'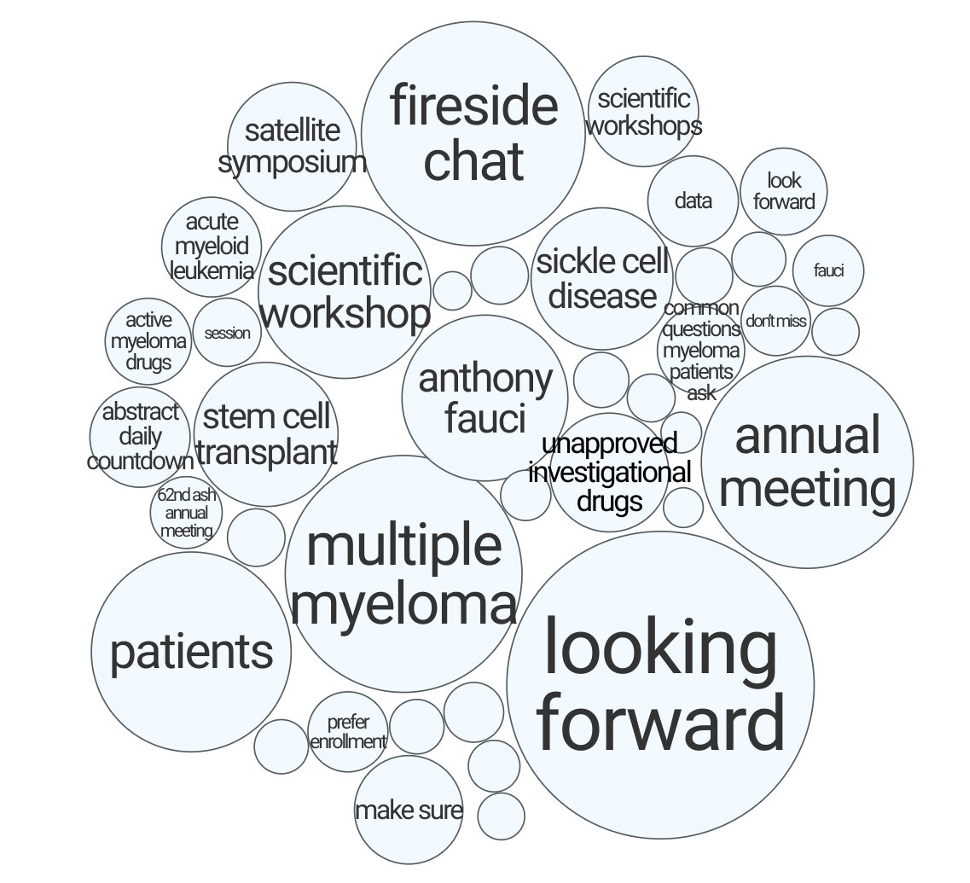 There were some who were watching the event virtually with their pets, compared to being in Hall C/D or with their friends and colleagues.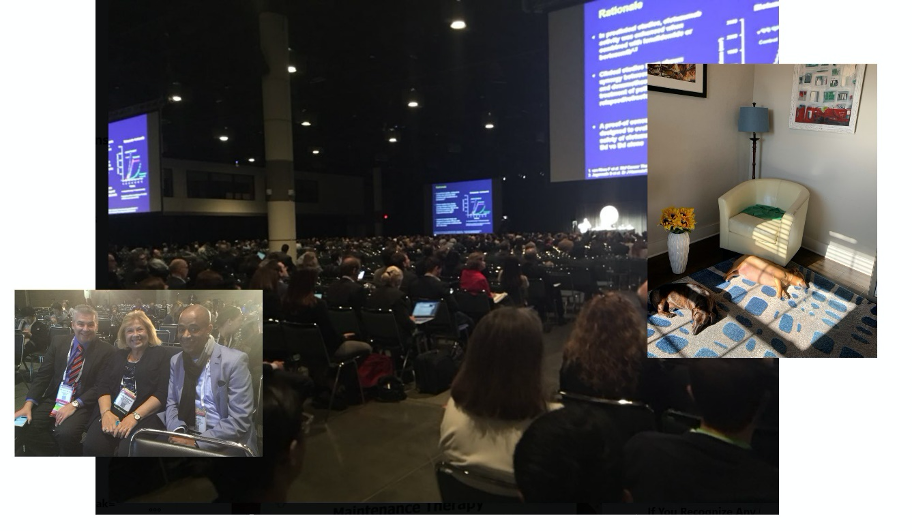 Dr. Joe brought ASH to his home.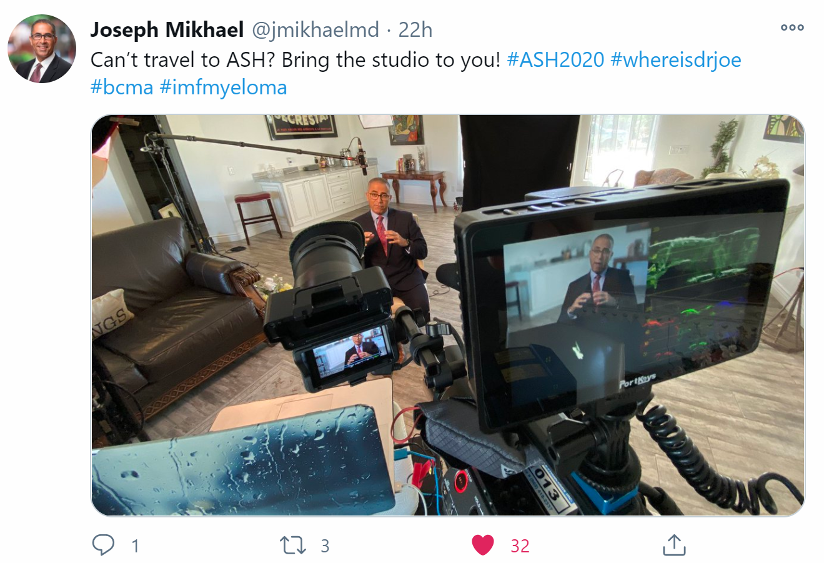 Dr. Costa was impressing his dog with his multi-tasking skills.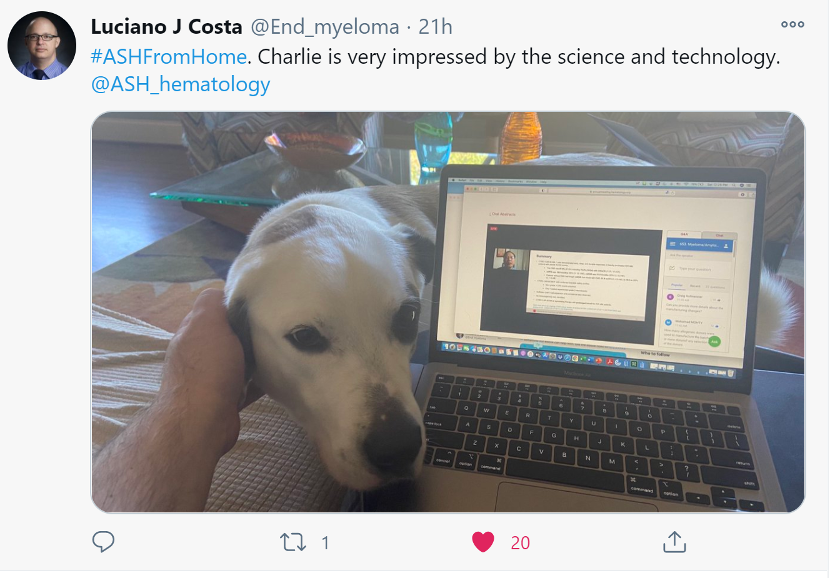 How about the studies being presented?
The presentations and virtual discussions were really outstanding. The ASH team did a phenomenal job ensuring that there were minimal issues with technology/bandwidth.
There were several presentations related to CAR-T and BCMA. The two most impressive ones, to me at least, were the Janssen CARTITUDE-1,  showing overall response rate of 97%, stringent complete response (sCR) of 67%, sCR+MRD-neg 34% with 12-month progression-free survival (PFS) 76.6%, 12-month Overall Survival (OS) 89%. Cytokine Release Storm (CRS) G3+ 5%, Neurotoxicity of G3+ 2%. What this is saying is that the CARTITUDE product is IMPRESSIVE for a couple reasons. One is for its response rates. Another is the fact that the patients in this trial are highly pretreated, and some have extramedullary disease or are, in most cases, penta-refractory.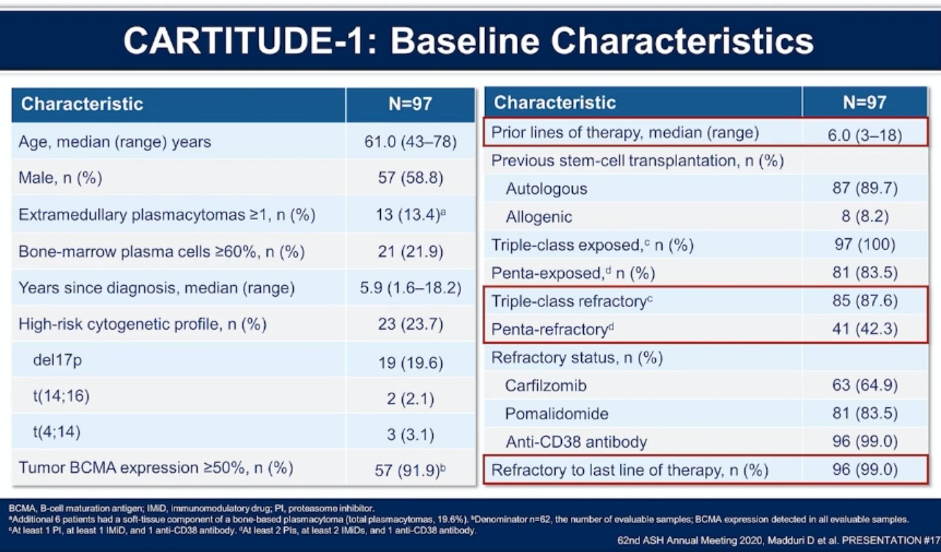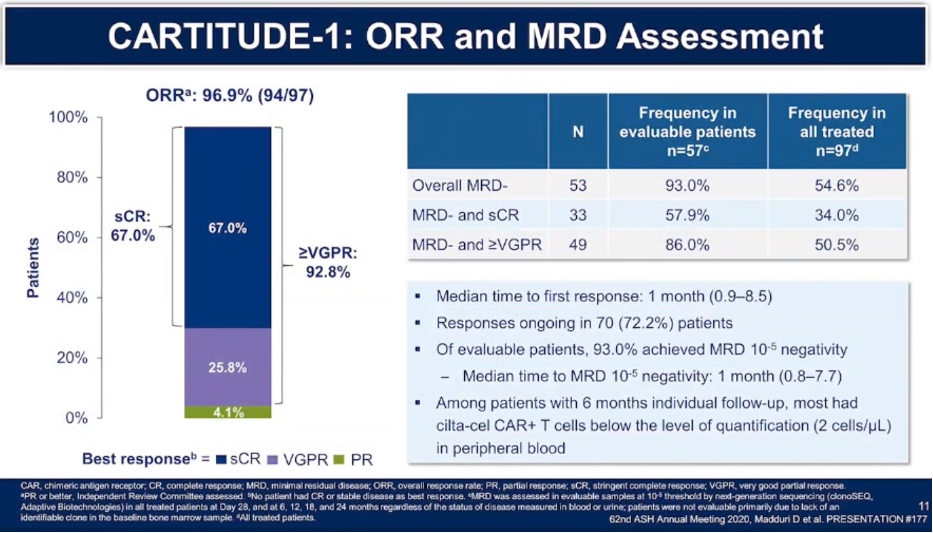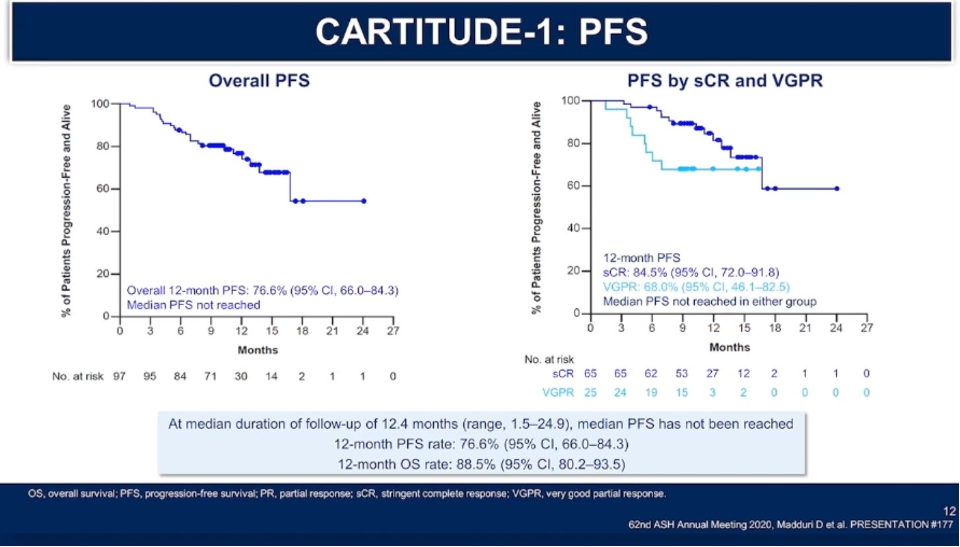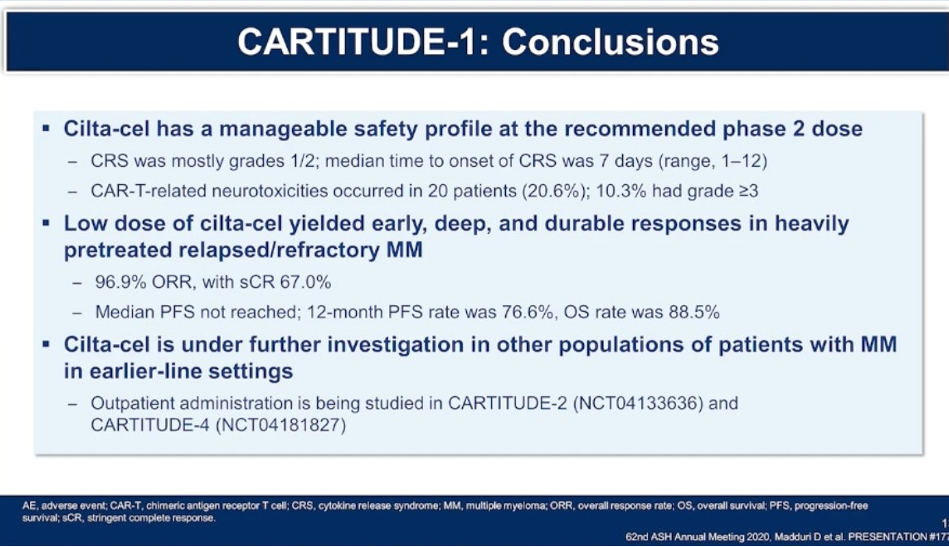 The other impressive result was from the Clinical Results of a Multicenter Study of the First-in-Human Dual BCMA and CD19 Targeted Novel Platform Fast CAR-T Cell Therapy for Patients with Relapsed/Refractory Multiple Myeloma.
The 16 patients that were treated with this drug had !!100% MRD- and Stringent Complete Response rate at 6 months!! This is impressive for this patient cohort although we need to let the data mature.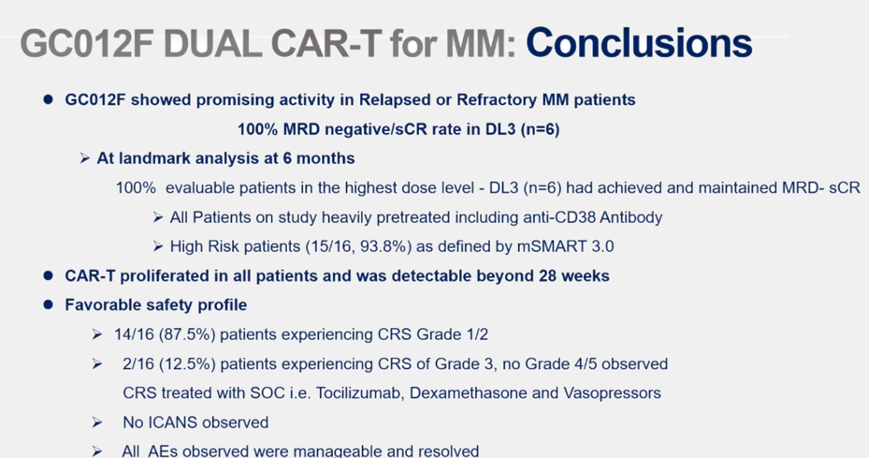 How about the long-awaited results related to the benefit of Transplant or Early vs Late Transplant?
There were three trials that were presented that discussed the benefit of transplant or the difference in outcome based on early vs late transplant.
The IFM 2009 trial presented by Dr Aurore Perrot with 8 years of follow-up show
Overall Survival was similar with both trial arms. But, autologous stem cell transplant (ASCT) reduced risk of death or progression by 30% compared to Velcade, Revlimid, and dexamethasone (VRd) alone. The transplant arm had higher MRD negative with 10E-6. I am not sure I do understand the science or stat as well, but if at year 8, the trial indicates Overall Survival between the 2 arms is similar. Yet, PFS, MRD- and other adverse effects are better for the transplant arm, could it mean that MRD is not a surrogate for PFS and PFS not for  OVERALL SURVIVAL ?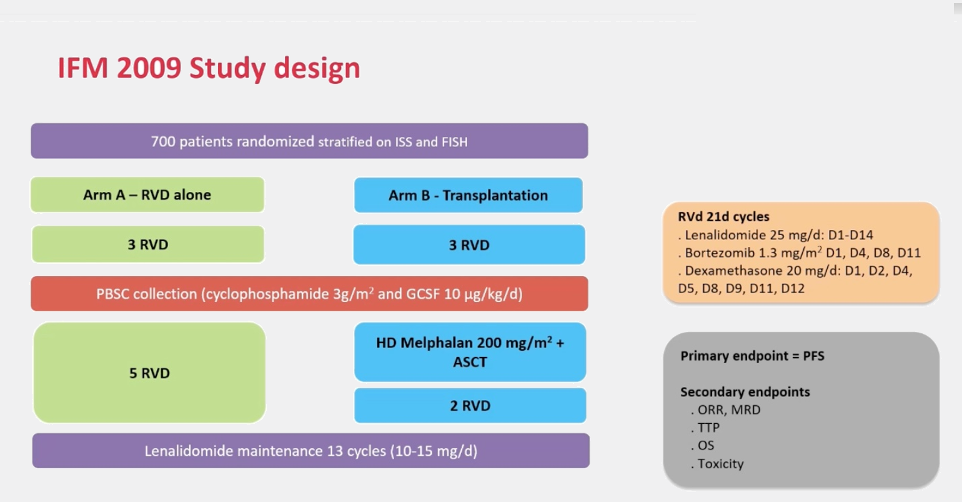 The EMN02/HO95 trial presented by Dr Michele Cavo showed ASCT resulted in significantly longer  overall survival, PFS2 and Time to Progression compared to Velcade, melphalan, prednisone (VMP) at 75 months. Delayed ASCT at time of diseases progression had a significantly shorter PFS2 and overall survival.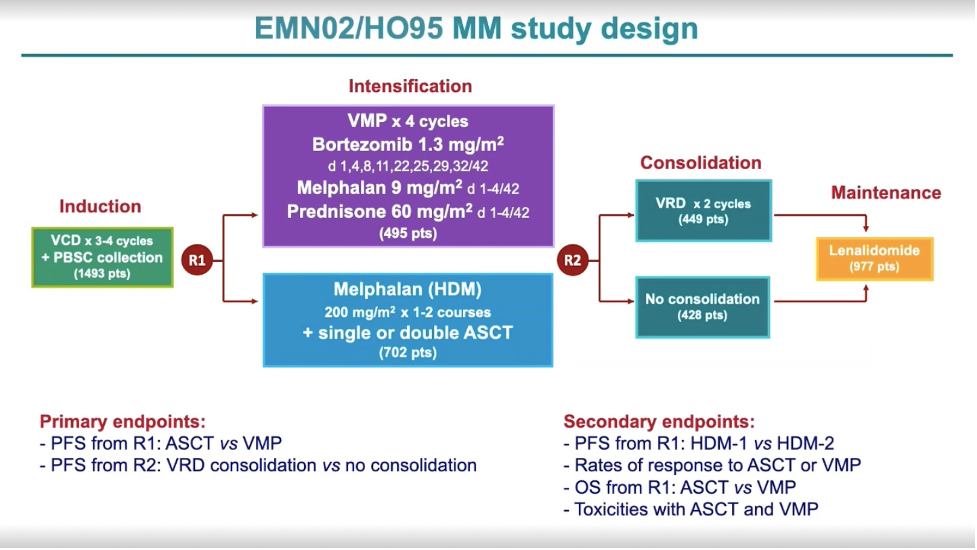 The FORTE Trial presented by Dr. Francesca Gay from Torino, Italy, had 3 arms. The Kyprolis, Revlimid and dexamethaonse (KRd) without a transplant (KRD12), KRd with a transplant (KRd_ASCT) and Kyprolis, cyclophosphamide, and dexamethasone (KCd) with a transplant (KCd_ASCT). Dr. Gay's presentation showed.
KRd with ASCT results in significantly longer PFS vs KRd12 vs KCd with ASCT in all subgroups including HR
KR maintenance significantly prolongs PFS versus Revlimid-alone with 85% PFS at 30m Overall Survival  #ASH20 #mmsm #ASH20SL
KRd with ASCT has higher PFS, and benefit in all subgroups
Comparable adverse effects with Kyprolis and Revlimid (KR) versus Revlimid (R) maintenance
KR maintenance superior to R maintenance and benefit in all subgroups 
 OVERALL SURVIVAL  too early to call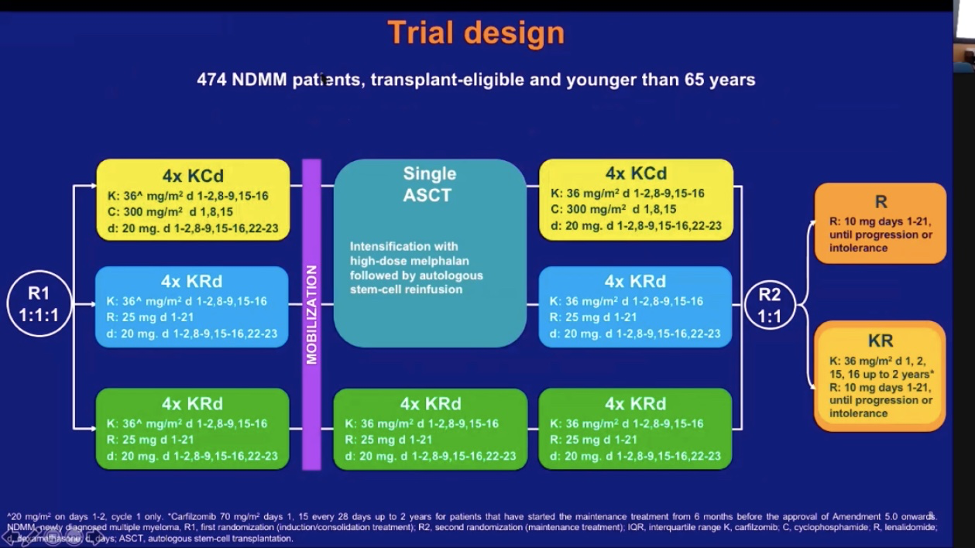 Overall, the myeloma experts agree that Stem Cell Transplant should be done either at diagnosis or at first relapse. The reservation:
Quite honestly, most patients know cancer could be deadly, and myeloma for the most part, is incurable. As a result, they are more willing to undergo a transplant. The doubt creeps in when it's close to impossible to predict where in the response/duration curve they will fall.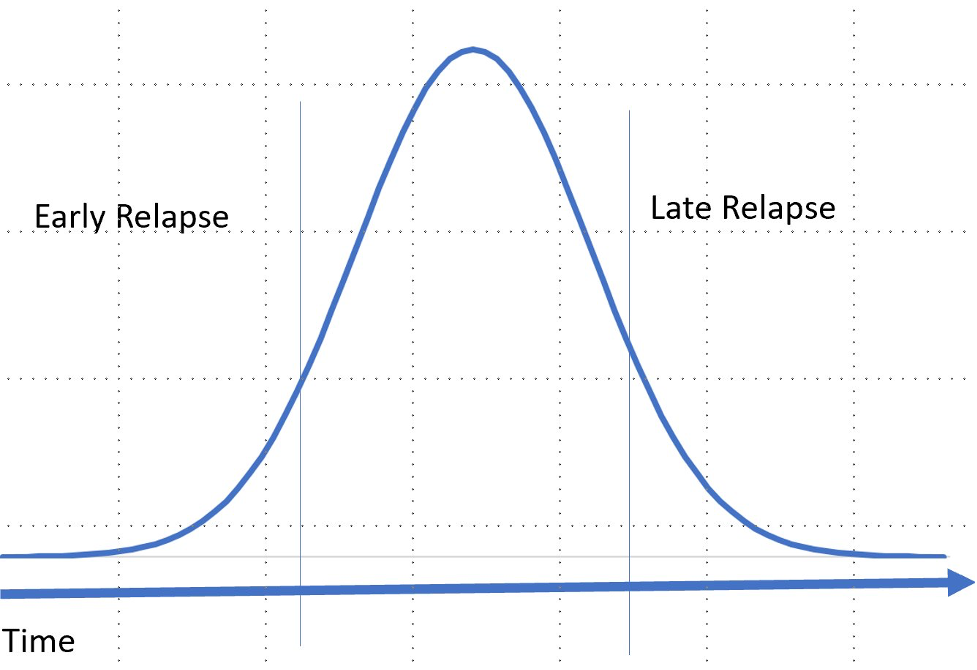 ASH20 continued to show the importance of clinical trials as indicator for drug approval and treatment outcomes. The results from these trials may not be translatable to individual patient. As a result, as much as possible, myeloma patients need to solicit input and partner with myeloma experts in personalizing treatments to them.