Hi Everyone!
Welcome to ASH 2020 style: what else but virtual!
This PRE-ASH blog is my way of sharing with you *highlights of the past to help us refresh our memories and to prepare us for #ASH20!
It's also about reading up on the various "ASH Top 10 for 2020" lists. Here is Dr. Brian Durie's list: https://www.myeloma.org/blog/ash-2020-building-toward-future-myeloma-care
For those of you that are also on Twitter, please note the following hashtags to use and follow:
#ASH20, #IMFASH20, #MMSM, #myeloma
You may also want to update who you are following on Twitter to stay on top of posts from #ASH20. It's an amazing way to be a fly on the wall and hear live updates from key myeloma tweeters plus have interactive tweets with them. Another hint on who to follow in the myeloma world is to check out who other's follow, and if of interest to you, follow them too.
The #IMFASH20 Team consists of veteran patients and support group leaders that have dedicated their time to educating themselves with the goal to help you understand from a patient perspective what to look forward to. We are thrilled to once again have on our team, IMF Nurse Leadership Board Member, Teresa Miceli, RN, BSN, OCN from Mayo Clinic in Minnesota. Teresa helps us navigate through our #IMFASH20 working meetings to better understand the information and language from trials.
Here's the #IMFASH20 Team Twitter handles all in one convenient place for you to follow:
| | | |
| --- | --- | --- |
| Jack Aiello | @JackMAiello | Support Group Leader, SF Bay |
| Sheri Baker | @blondie1746 | Support Group Leader, Boise, ID |
| Yelak Biru | NorthTxMSG | Support Group Leader, NW Arkansas |
| Cindy Chmielewski | @MyelomaTeacher | Support Group Leader, Philadelphia |
| John DeFlice | @JohnDe1MYELOMA  | Support Group Leader, Sante Fe, NM |
| Linda Huguelet | @LindaMYELOMA | Support Group Leader, Chattanooga, TN |
| Teresa Miceli | @IMFnurseMYELOMA | Support Group Leader, Rochester, MN |
| Jim Omel | @IMFjimMYELOMA | Support Group Leader, Grand Island, NE |
| Valarie Traynham | @MyelomaValarie | Support Group Leader, Aurora, IL |
| Michael Tuohy | @IMFmikeMyeloma | Support Group Leader, Prospect, CT |
| Robin Tuohy | @IMFSupport | IMF Vice President, Support Groups |
| Tiffany Williams | @MyelomaHope | Support Group Leader, Charleston & Orangeburg, SC |
I am extremely grateful to these leaders and hope that your read all their blogs and follow them on Twitter too!
*Highlights of the Past:
I'm a big believer in doing my homework and being prepared. To help with that, I typically review a number of resources to get me up to speed to best understand this year's ASH abstracts. Here are a few recommendations for you to review:
Last but not least under Highlights from the Past,
I'd like to recognize and thank the #IMFASH19 team for their work last year!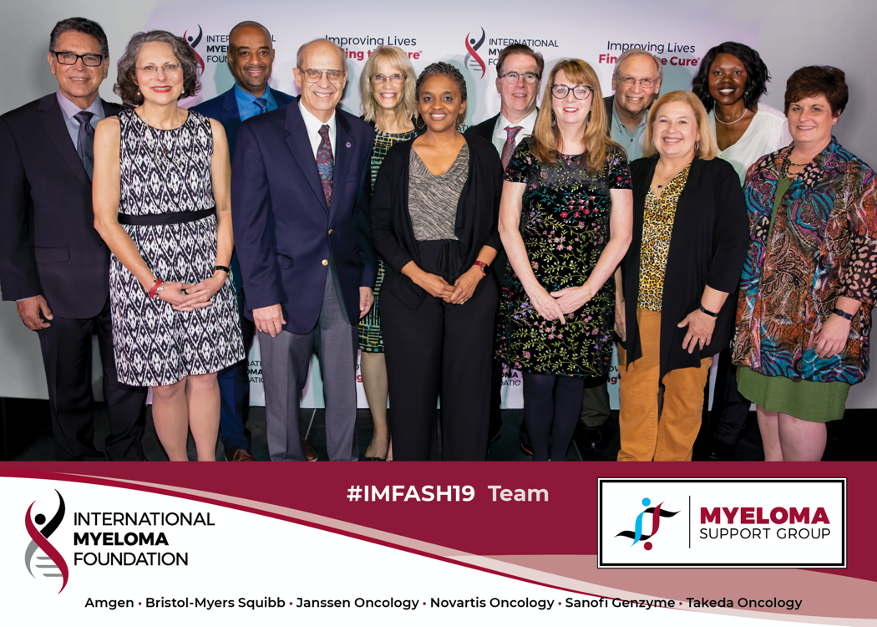 This is also our #IMFASH20 Virtual Team.
I am grateful for their continued commitment to our myeloma community and helping others.
Thanks to YOU for reading and getting ready for #ASH20! Please come back each day to read all the patient blogs, and of course, all the myeloma specialists' video interviews!
Here is your direct link to all IMF #ASH20 Videos & Resources:
https://www.myeloma.org/blog/ash-2020-building-toward-future-myeloma-care
With final thanks to our sponsors of this IMF Support Group Leaders to ASH 2020 educational program: