This year the American Society of Hematology's annual meeting will be held virtually. I am getting accustomed to attending virtual events since all my meeting since the first week of March have been switched to this format. Virtual meetings have advantages and disadvantages. Attending a scientific meeting from the comfort of your home is logistically easier on the attendees (although I am sure it's a nightmare for the organizers). Attendees usually have access to online meeting materials to view at their own leisure and not tied to a specific schedule. Information that needs to be shared has a forum to do so. And of course, the cost of attending in much less. Conversely there are disadvantages. There is less interaction and networking. Without in-person events a lot of collaboration in lost. I know for me it is more difficult to stay engaged in an online format that spans a number of days. Technology considerations can also be an issue.
Although I would much rather be attending #ASH20 in person (if it were safe) I am fortunate to be attending this premier event for the ninth time with the International Myeloma Foundation (IMF). The IMF understands the importance of patient education and the value of including the patient perspective at scientific meetings. Thanks to the generosity of our industry sponsors the IMF is able to bring a group of patient leaders to virtually attend #ASH20. This team of patient advocates will be providing coverage of the meeting from the patient perspective. The patients that are attending this year's ASH meeting have the necessary knowledge and followings to comprehend what is being presented during the sessions and in turn to share what they learned with the myeloma community. The International Myeloma Foundation has trained us well. We will be writing blogs, tweeting from the oral sessions using the hashtags #ASH20 #MMSM #IMFASH20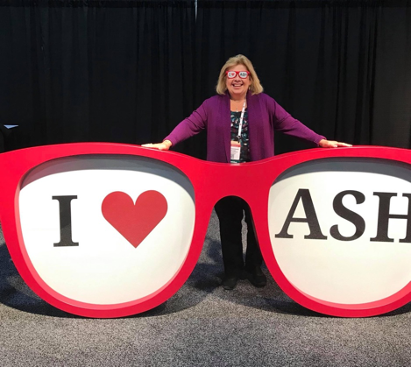 My focus this year will continue to be new research being presented in the area of immunotherapy. I am anxious to hear updates on the various chimeric antigen receptor-modified T cell (CAR-T cell) trials including the off the shelf variety and hope to learn when the first CAR-T cell therapy for myeloma will likely be FDA approved. I am curious if any new antibody drug conjugates (ADCs) are in development and updates on GSK's newly approved Blenrep. I want to gather more information on bi-specific antibody therapy including Amgen's BiTE technology for myeloma.
I am honored to be attending #ASH20. My goal is to share what I have learned via Twitter @MyelomaTeacher so that you feel you are virtually attending this awesome event too. I may even get to bake a batch of cookies or wrap some presents between sessions since the event is virtual this year.
By Cindy Chmielewski @MyelomaTeacher
Philadelphia Multiple Myeloma Networking Group
Top 10 Abstracts courtesy Dr. Mike Thompson