This year's ASH, as we all know, has been very different, thanks to Covid-19. We've missed lots of things by not being physically together; however, there are always silver linings! I'm mostly grateful to the resilient researchers, hematologists/oncologists, nurses, and pharmaceutical companies that have keep research going through this pandemic. While there were fewer abstracts at ASH this year, the increase in FDA-approved treatments and the pipeline in the myeloma field remain robust and filled with new options and hope.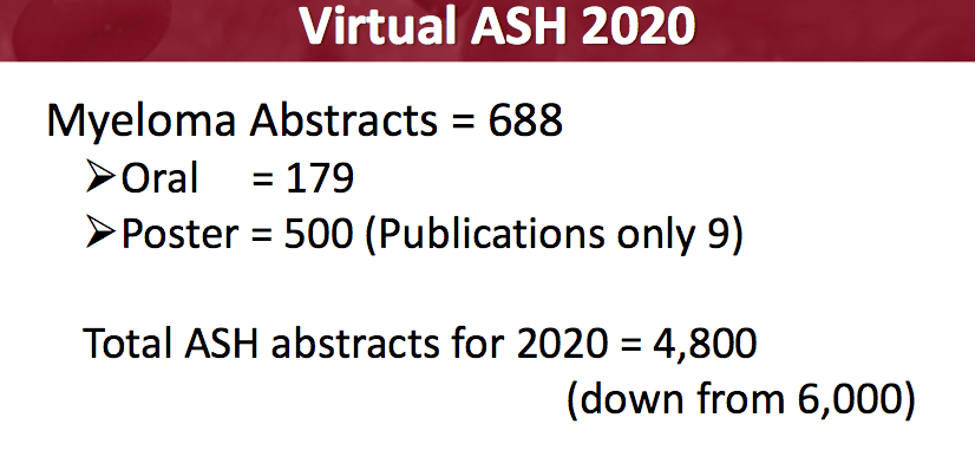 On the IMWG Conference Series, Dr. Brian G.M. Durie led a panel discussion with Dr. Thomas Martin, Dr. Maria Victoria Mateos, and Dr. Joseph Mikhael on Smoldering to Frontline to Early relapse to new Immune Therapies. I'm very grateful for this consolidated summary of key ASH abstracts and happy to share the below with you:
If you are a Smoldering Myeloma patient or caregiver, there are more clinical trials than ever before to help determine if, when and how to treat YOUR smoldering myeloma. If you are Low, Intermediate or High Risk; what are your options? How do we predict progression? Lots of these questions were answered in the IMWG Conference Series, and for exact details, I encourage you to view the replay HERE.
Smoldering Myeloma Algorithm: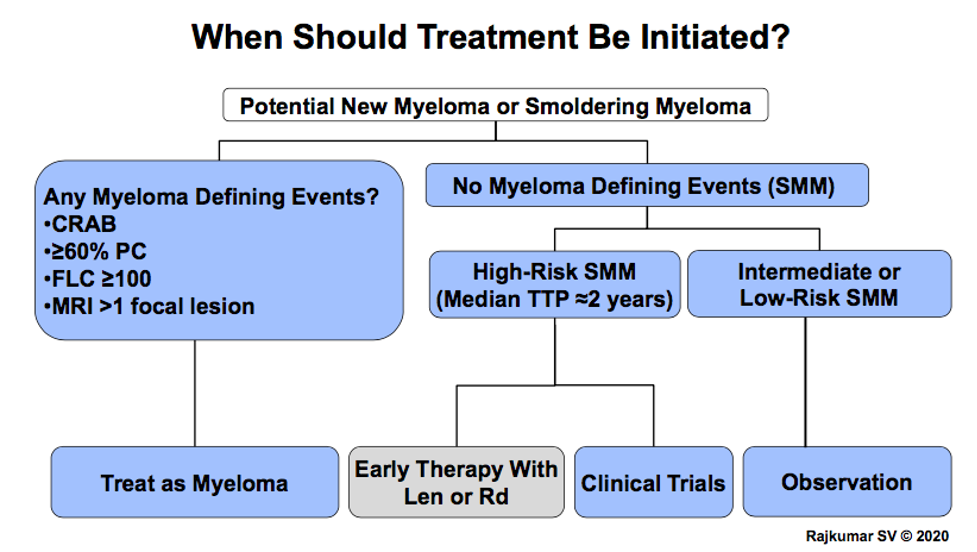 Additionally, the below slide helps to better understand Risk Score to Predict Progression. =As an example, here, the High Risk Group (purple line) with a score of 12 or more you actually get beyond a 70% risk of progression at two years. It's important to know your risk to determine the best approach to treat (or not/Low Risk red line).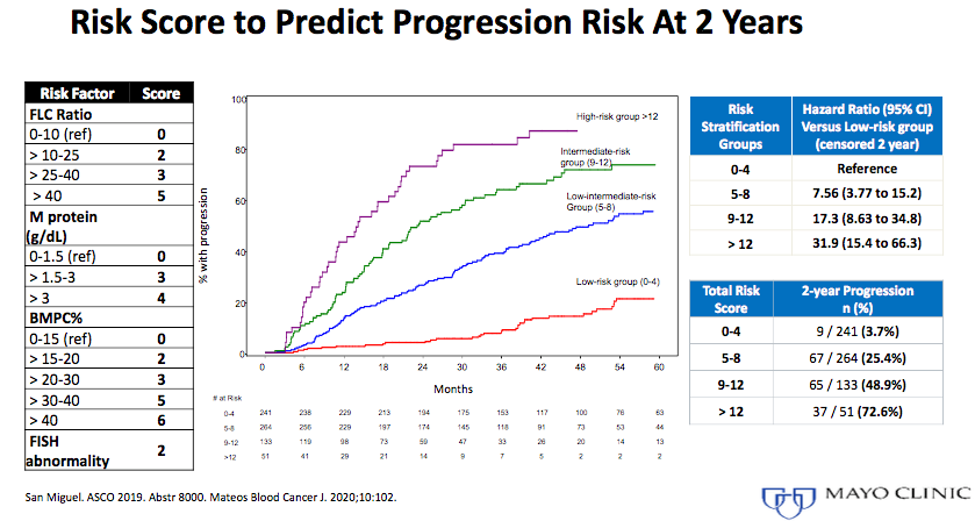 Frontline and First Relapse: The algorithms below are from Dr. Philippe Moreau, University Hospital — Nantes, France.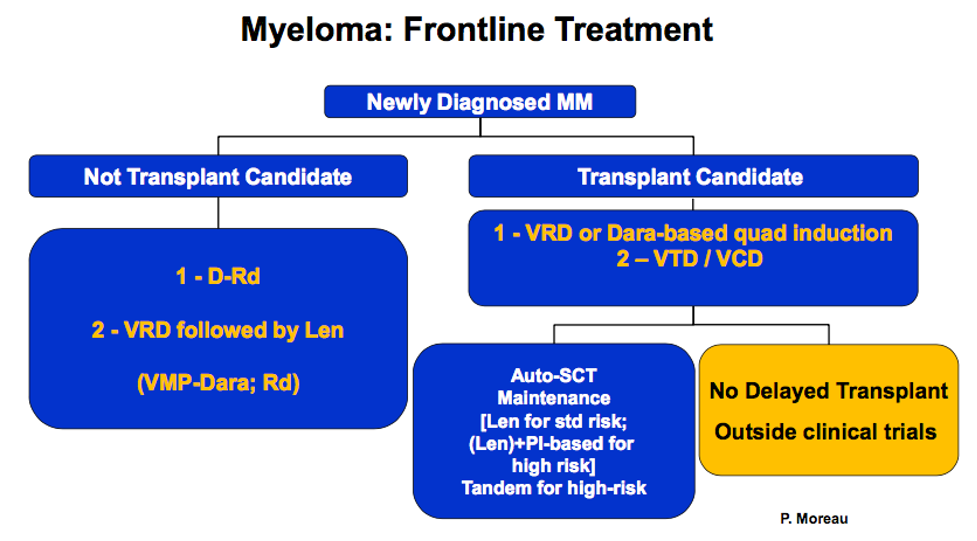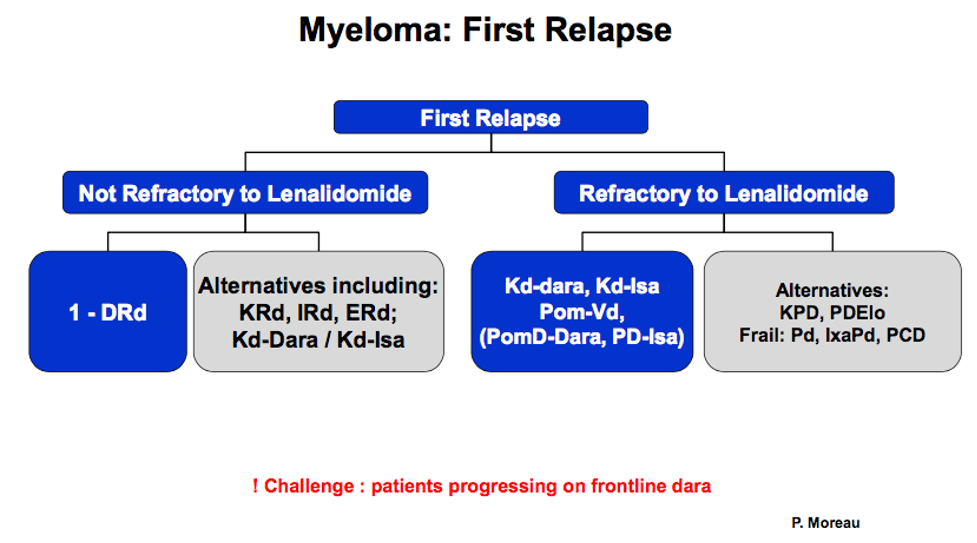 These algorithms are interesting to look at as guidance, but it's extremely important to have discussions with your own healthcare team. To discuss YOUR myeloma and YOUR goals.
I firmly believe that every myeloma patient should have a good partnership with their healthcare team to best manage myeloma and provide a good Quality of Life.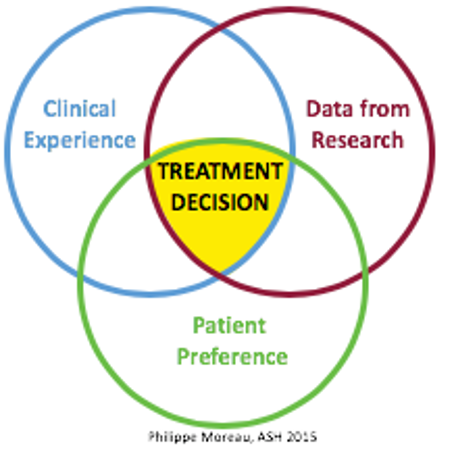 If you do not have access to myeloma specialist nearby, now is the perfect time to consider doing a Telehealth Visit! You can contact the IMF InfoLine to find out what myeloma specialists are available to see virtually: 1-800-452-2873 or [email protected]
There is also an excellent Webinar on Telehealth: How to make the most of your Healthcare Provider Visit.
Some interesting quote to think about:
This year, it's all about adding Dara, to almost everything!
"Adding Dara to doublet or triplet offers little increase in toxicity and significant increase in efficacy." — Dr. Thomas Martin
Dr. Mateos agreed and said that in Europe Dara-RVd is becoming Standard of Care.
Don't forget Dr. Mikhael's statement: "Saving the best for last may be good for a Hallmark movie, but not for myeloma."
So now the big questions on the new role of immune therapies. This slide is courtesy of Dr. Martin: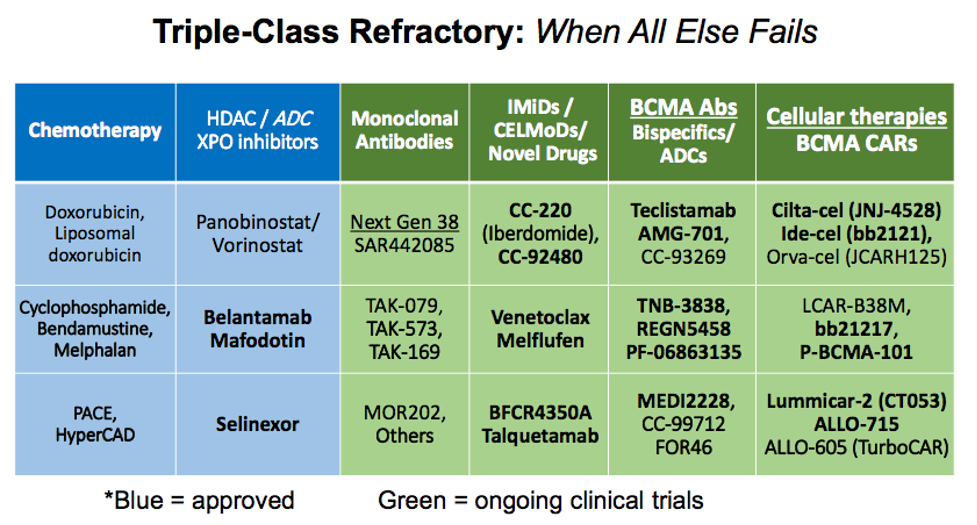 Lots to think about in the FDA approved options, but also looking at trials, we can watch as they move forward.
CAR Ts: It's a very active space with so many next generation CAR Ts. The updates from Cartitude 177 abstract presented by Dr. Madduri, Mount Sinai, NY, caught everyone's attention with a high overall response rate of 96.9%. Dr. Martin talked about this as a "one and done" type of therapy. One dose and deeper response than with frontline quadruplets. Perhaps by bringing ti to earlier upfront treatment setting, every last clone can be attacked to flatten the curve. All doctors agreed, and they said CAR-T therapies are here to stay and will change how we do therapy. Dr. Durie agrees with this paradigm change!
There's so much more discussed on this in depth review of ASH, so please click the links below to see what makes most sense for you.
Links to Resources for ASH 2020:
I'll leave you with two photos I took while attending virtual ASH. One with my husband, Michael, and 20 year myeloma survivor while he was engaged in all the ASH Abstracts. The other is of our pugs, exhausted from ASH! (Me too! Exhausted but Grateful!)