After finishing two full days of watching abstracts and education sessions about multiple myeloma at the American Society of Hematology Conference (ASH), my head is spinning from the number of new combinations, therapies, and therapy targets. All of this is excellent news for us, but this makes treatment decisions much more complicated. This diagram presented by Dr. Niels Van de Donk in an education session on Sunday morning gives a good overview of the current and future treatment landscape.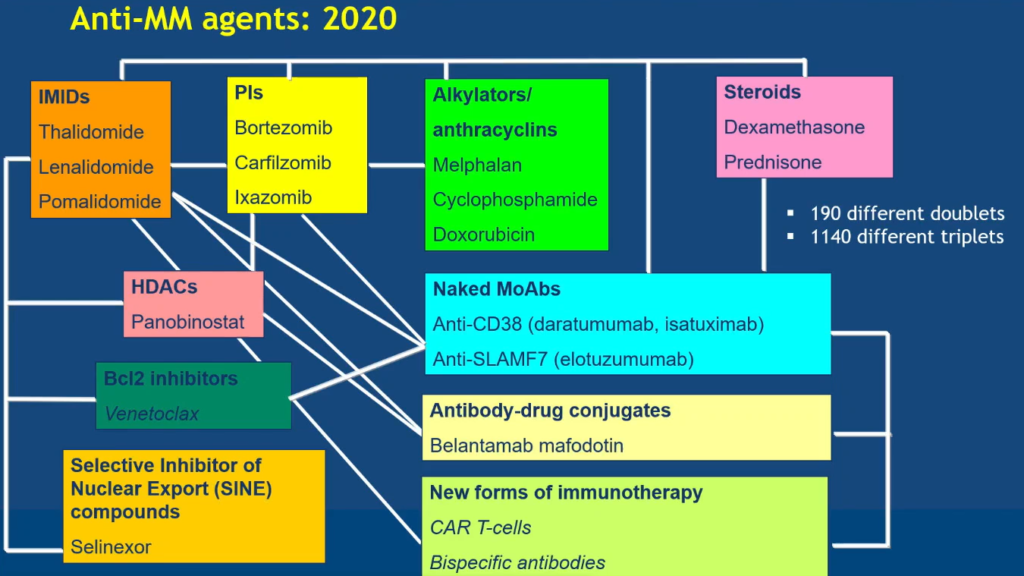 For years, first line treatment in the United States was pretty much Revlimid (lenalidomide), Velcade (bortezomib) and dex (dexamehsone) for all patients. There was some comfort that early on you were not forced to make a treatment decision about a disease you didn't even understand at the time. Now, thanks to many advances, adding Darzalex (daratumumab) to this regimen is gaining popularity. There has been a lot of discussion about should you save Darzalex for later, but more and more experts are leaning toward using it upfront. They want to provide the best possible combination at the earliest stages to achieve the deepest possible response whether the patient will move on to a transplant or not.
For patients like me, who have been through several treatment regimens, I'm encouraged by the new therapies being studied and even the new targets of attacking myeloma. Although it is also a bit sobering to hear the overall survival statistics of patients that are triple- or penta-refractory — meaning you no longer respond to three or four of the currently available drug classes. Immunotherapies continue to be the most exciting treatments on the horizon. Immunotherapies engage your own immune system to fight myeloma. The immunotherapies currently fall into several categories: monoclonal antibodies, antibody drug conjugates, and bispecific antibodies.
Many of you, like me, may already be taking one of the approved monoclonal antibodies like Darzalex (daratumumab), Empliciti (elotuzumab), and Sarclisa (isatuximab-irfc). All are continuing to be studied in various combinations to provide the best responses and possibly provide the ability to be retreated with them once your response begins to wane.
This year, the first ADC (antibody drug conjugate), Blenrep (belantamab mafodotin), was approved. It utilizes a monoclonal antibody targeting BCMA on myeloma cells to drive a chemotherapy agent directly to the myeloma cell without causing widespread damage typically caused by chemotherapy. Early data on another ADC, MEDI2228, was presented.
Bispecific antibodies (BsAbs) bind to the myeloma cell and T-cells to target and kill the cancer cells. Last year, all the BsAbs presented targeted BCMA, like the ADCs, and these continue to be tested. But there is already discussion about what to do when the BCMA expression is no longer strong enough to work as a target. Several studies were presented with BsAbs that target other antigens on our myeloma cells.
As you can see, the myeloma treatment landscape continues to evolve and get more complicated. In this case, complicated is a good thing because it means more options for us and we require unique ways to tackle our ever-evolving myeloma.
Be sure to check out my blogs and those of the entire patient team at IMF at ASH 2020 | International Myeloma Foundation and follow my tweets on Twitter.
Linda Huguelet, Chattanooga Multiple Myeloma Networking Group